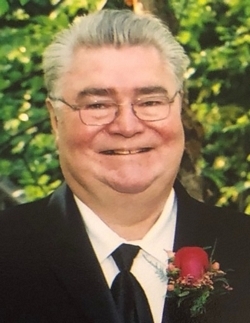 Philip Michael Farley, loving husband, father, grandfather, great-grandfather, brother, uncle, and son passed away on Monday, May 11, 2020. He was 76 years old.

Farley was born to parents William L Farley and Evelyn Barbara Merkle in Cheverly, Maryland, on March 28, 1944. He graduated from Gonzaga High School in 1962 and lived in various places across the country, including California, New Jersey, and Florida, before returning home to Maryland once again, where he resided for the past 20 years. Farley was an active member and lector at St. Louis Church in Clarksville, Md., and resided nearby in Laurel, Md.

Phil Farley was married to Myrna Farley, his wife of 16 years, who survives him. He is also survived by his children and their families: James and Juli Farley, Mark Farley and Kristina Whipple, Bill and Michelle Farley, Kristin and Ted Mounts, Sarah and Vinnie Miceli, his stepchildren, Angelica Taganahan, John Noel Taganahan, and George Emil Taganahan, his grandchildren, John Farley, Ashley McDonald, JT Farley, Alice Palatnick, Noah Phillips, Kate Farley, Hannah Farley, Morgan Mounts, Trevor Mounts, Madison Mounts, Hayden Miceli, and Liam Miceli, his great-grandchildren, Austin McDonald, Caleb McDonald, Brady McDonald, and Dylan McDonald, and his brothers and their spouses, Ronald and Cristina Farley, Dennis and Cherie Farley, Timothy Farley, Terry and Les Farley, and Kevin and Carol Farley, as well as countless cousins and other relatives.

Phil Farley loved family above all else. As the oldest of 6 boys and the father of 5 children, Farley relished any opportunity to attend or plan a gathering that would inspire people to come together under one roof. Those gatherings often revolved around one of his other loves- his deep appreciation of music. He enjoyed all musical genres and you might say that his vast and diverse LP collection stood as the soundtrack of his colorful life. His children would tell you that it is difficult to listen to any song, at all, without finding some connection to their father.

There are many others that might not even realize that they were connected to Farley, but they knew the man, likely named Farkel, who often dominated the leaderboards of online trivia games. His impressive ability to recall detailed information was astounding. He was a bit of a wizard when it came to any kind of trivia, at all. Before the creation of the internet, Philip Michael Farley was likely one of the most reliable fact finding resources available to those fortunate enough to know him.

Another of Philip Farley's loves was a good family meal. It was never really about the food, but about the gathering. To Farley, there truly was no separation between hearth and family. They were synonymous and, if he had a "happy place," it was probably seated at a large table, surrounded by family, eating together, telling stories, and enjoying each other's company.

This leads, finally, to one of Farley's greatest loves. Philip Michael Farley loved laughter. He loved to laugh as much as to inspire others to join him. He, himself, had a distinctive laugh that sounded like it came from throughout his whole body, and he was always ready at any moment with a "dad joke" or some other comment to help add fuel to keep the laughter going. Whether his family and friends were laughing heartily along or it was some combination of laughing and groaning over his latest quip, the exchange filled him with a deep joy that was evident in the mischievous sparkle in his eye.

A graveside service will be held for immediate family on Friday, May 15, 2020. Due to State guidelines concerning the size of gatherings due to the global coronavirus health crisis, this service must remain very small. Because it is not possible to gather together all of his loved ones to celebrate his life at this time, a memorial service will be scheduled at some future date, depending upon changes in regulations and state guidelines. There are so many stories that could be included here about Farley and the way that he has touched the lives of so many, but in honor of his love for family gatherings, we believe that he would rather those stories be shared amongst his loved ones when they are able to safely come together in his name.

In lieu of flowers, his family requests that you please consider making a charitable contribution to one of the following resources:

ALZHEIMER'S ASSOCIATION: To contribute to the cause of fighting Alzheimer's, please visit https://www.alz.org . Find the "DONATE" button in the upper right corner of the home page and follow the instructions from that point.

THE UMMC BALTIMORE SHOCK TRAUMA CENTER (For hospital technology to assist families to stay in touch when they can't be bedside): There are two ways to contribute to the UMMC Baltimore Shock Trauma Center. You can send a check payable to the UMMS Foundation to:

University of Maryland Medical Center, P.O. Box 64573, Baltimore, MD 21298

His family requests that you write in the "memo line" of your donation by check the following: "Shock Trauma - area of greatest need."

If you prefer to donate to the UMMC Shock Trauma Center on line, please visit https://www.ummsfoundation.org. Find the yellow "DONATE" button in the upper right part of the home page. After selecting the amount that you wish to contribute, click "Direct my gift to" and select from the drop down bar "R Adams Cowley Shock Trauma Center," followed by "* Area of greatest need." Finally, note that this is a memorial gift and complete the rest of the form.

Family from across the country, despite shelter-in-place orders in most states, were able to visit with Farley in his final days using internet connections and video calling apps, all provided by the UMMC staff. The family has directed the foundation to utilize all memorial gift contributions sent on-line to support the purchase of new tablets and necessary resources so that other families can experience the ability to be with their loved ones, even when they cannot be there in person.