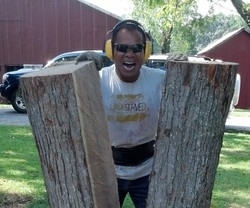 Ernesto Cendaña, 53, of Great Mills, Md. went to be with our Lord on October 22, 2016. He was born in Manila, Philippines and was the son of Felicidad and Jack Hubbart.

Ernie is survived by his wife Kathleen Cendaña, daughter Kaitlynn-Marie Cendaña and son-in-law Bradley Gass. Other family includes Tonuya Hubbart of Whidbey Island, WA, Jon Hubbart of Arbutus, Md., Wendy Maresca of Ballston Spa, NY, Cassie Lupien of Oak Harbor, WA, Cameron Rector of Oak Harbor, WA and Billie Rector of Blaine, WA.

Ernie served his country in the U.S. Navy for 20 years; he was stationed on the USS America, USS Truman as well as Roosevelt Roads in Puerto Rico. When he retired from the military he continued his work as a fuel handler as well as fuel truck mechanic at NAS Patuxent River. He enjoyed scuba diving, ATV riding, target shooting, camping, raising and selling exotic birds, eating out, and tree removal.

A Life Celebration will be held on October 29th at 12, noon, at First Saints Community Church (St. Paul's Campus) in Leonardtown, MD. Interment will be private. In lieu of flowers donations may be made to Christmas in April St. Mary's County, Inc., 28231 Three Notch Rd., Mechanicsville, MD 20659. Arrangements by the Brinsfield Funeral Home, P.A., Leonardtown, Md.