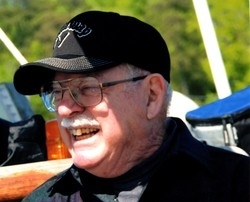 Walter Quinton Crowe, 92, of St. Mary's City, Md. died September 24, 2016 at Hospice House of St. Mary's in Callaway, Md. He was born on February 23, 1924 in Providence, RI to the late Arthur Edwin Crowe and Ethel Doige.

On February 8, 1944, Walter proudly enlisted in the United States Army, where he piloted two and four engine aircraft and commanded crew. He flew 35 combat missions against the enemy in European Theater, World War II. During his service he earned the EAME Theater Ribbon with three bronze stars, the Air Medal with four Oak Leaf Clusters, the World War II Victory Ribbon, and the American Theater Ribbon. He was honorably discharged as a First Lieutenant on November 30, 1945.Thanks to the G.I. Bill, he attended Yale University and graduated with a BA in Fine Arts.

On August 31, 1957, Walter married his beloved wife, Helen-Marie Scholes Crowe in Barrington, RI. Together they celebrated over 54 wonderful years of marriage before her passing in 2011. He was employed as Cartographer, Artist and Research for National Geographic Society until his retirement in 1986. They moved to St. Mary's County in 1986 from Bethesda, Md.

Walter was an avid sailor, talented artist of portrait, still-life, and woodwork, and thoroughly enjoyed his waterfront home. He also painted the historic bird's-eye view/map of St. Mary's City, the original of which currently resides in the Historic St. Mary's City Visitors Center, and as a mural, also in the Visitors Center. Walter was a member of the St. Mary's Yacht Club, St. Mary's Parish (Trinity Episcopal Church), the Art Alliance, and the Historic St. Mary's City Foundation.

Walter is survived by his daughter, Marie-Anne Crowe, and many extended family and friends. In addition to his parents and beloved wife, he is also preceded in death by his siblings, Edith Crowe 91, Mildred Williams 96, and Arthur Crowe 98.

A Memorial Life Celebration will be celebrated by Reverend John Ball on Saturday, October 1, 2016 at 11:00 a.m. at Trinity Episcopal Church, 47477 Trinity Church Road, St. Mary's City, MD 20686. Interment will follow in the church cemetery. Memorial Contributions may be made to Hospice House of St. Mary's, P.O. Box 625, Leonardtown, MD 20650 and Trinity Episcopal Church, P.O. Box 207, St. Mary's City, MD 20686. Arrangements by Brinsfield Funeral Home.

Condolences to the family may be made at www.brinsfieldfuneral.com.

Arrangements by the Brinsfield Funeral Home, P.A., Leonardtown, MD.