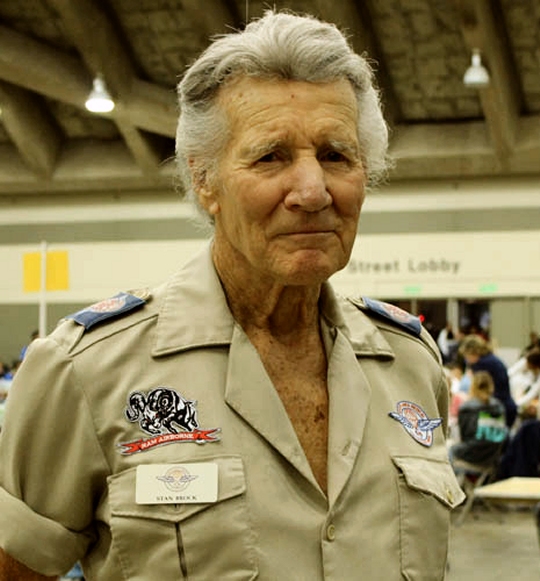 Stan Brock, the founder and president of Remote Medical Area at a RAM Clinic in Baltimore, Md. Oct. 11, 2017. (Photo: Oluwatomike Adeboyejo)
BALTIMORE
(October 18, 2017)—Over thirteen hundred uninsured and underinsured Marylanders arrived in downtown Baltimore to receive free healthcare from Remote Area Medical Clinic and other groups over two days last week.
This is the first time Remote Area Medical, a non-profit organization created to provide medical assistance for people in developing countries, has held a clinic in Maryland. They partnered with the United Way and other Maryland health organizations, which also provided medical services at the clinic.
With maladies including tooth infections and failing eyesight, people came from inside and beyond Baltimore, lining up as early as 11:30 p.m. the previous day, in hopes of receiving free dental, vision and general health services.
"(My) fillings fell out and … when I went (to the doctor) they wouldn't pull it. They kept giving me antibiotics, sending me back (to) come up with the money," said Carrie Ellis, 48, a Baltimore native. "I am on a fixed income, I support myself, my daughter, and 4-year-old grandson."
Ellis, who said she suffers from several health conditions such as Graves' disease, and arthritis in her legs and arms, uses a self-made artificial front tooth to restore her old confidence.
"I've kind of suffered a whole lot with not being able to get them pulled," Ellis said. "I just want to be able to smile again."
Ellis, who did have some teeth pulled at the clinic, said she hopes to save enough money to get dentures.
Remote Area Medical holds dozens of clinics in the United States every year and provides free health care—often dental and vision services—targeted at impoverished communities.
There is no guarantee that all who attend Remote Area Medical clinics will receive medical attention. The fate of their health care is dependent solely on a limited bracelet-based system. However, no patients were turned away from the Baltimore clinic, according to Remote Area Medical.
Within three hours of opening the clinic on Thursday morning, 659 people were seen, and 445 of them received $251,000 worth of dental work.
By Friday evening, when the clinic closed, 1,317 people received some kind of medical attention as a result of the services provided over both days. By Friday, a total of 945 people received $544,651 worth of dental services and 433 received $101,990 worth of eye care service, according to Remote Area Medical.
"We are going to see a range of people today," said Cynthia Kipp, a senior executive assistant for one of the largest insurance companies in the region, who volunteered at the event. "People who are homeless, and we are probably going to see people who are middle class, who just cannot afford insurance and have very high deductibles."
Many people who have access to healthcare through the Affordable Care Act are unable to pay for dental or vision care, which are two of the most expensive health services.
"A lot of people do have have high deductibles and a lot of people do have high premium rate increases that are probably forcing them in this type of care," said Kipp.
More than 450 volunteers partnered with Remote Area Medical at the Maryland clinic—from the extraction of rotten teeth by students at the University of Maryland School of Dentistry, to the flu shots administered by students at the School of Pharmacy at Notre Dame of Maryland University.
According to Remote Area Medical, 608 people who attended the clinic are unemployed, and many patients told Capital News Service that they viewed the clinic as a rare opportunity to receive medical assistance because they rely on city services and local non-profit organizations to meet their needs.
"Many of these people have a decision to make. Do they eat tonight? Do they have a place to stay tonight? Or do they get their tooth fixed? And so, that tooth goes on back burner and that dental care may go on the back burner for a while," said Dr. Louis DePaola, associate dean of clinical affairs for the University of Maryland School of Dentistry.
"We just spoke to a person and they had 10 teeth extracted today," DePaola said Thursday. "Our objective is to raise their level of oral health and do as much as possible in as little time as possible."
Through the partnership with United Way, basic medical care was provided to those at the clinic. Students from the University of Maryland School of Medicine checked individuals' vitals and recorded the medical history of those participating in the clinic.
United Way provided clinic participants with legal assistance, employment opportunities, and housing information through several partnerships.
"I smile every day but I want to smile more at having something of my own again," said Robin Moore, 59, who received dental care.
Moore said she is now homeless in Baltimore after suffering a workplace injury.
Moore was one of one of the many who arrived as early as 2 a.m. Thursday morning to get housing and medical assistance.
Stan Brock, the former co-host of American television series "Wild Kingdom," is the founder of Remote Area Medical Clinic.
The idea for the organization was created when Brock was injured while living with an Indian tribe in Guyana, South America, too isolated for medical aid.
"I will like to be able to come here on a regular basis," said Brock. "Unfortunately, there are a lot of people in this country that can't afford to go to the dentist and can't afford to go to the eye doctor. These are the most expensive services. So when an organization like Remote Area Medical comes to your area it makes a difference for those people."
Since the establishment of RAM in 1985, the organization has held more than 800 temporary clinics, Brock said.
To learn more information about Remote Area Medical visit
ramusa.org/.