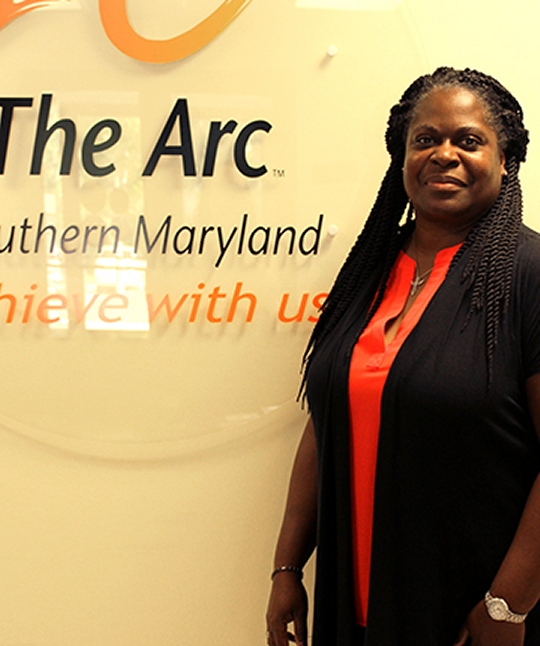 Norma Dallas, the new Assistant Director of Community Services with The Arc Southern Maryland.
PRINCE FREDERICK, Md.
(Sept. 28, 2017)—Norma Dallas has been promoted to Assistant Director of Community Supports (ADCS) with The Arc Southern Maryland, an organization that serves children and adults with intellectual and developmental disabilities (I/DD) throughout Southern Maryland. In her new role, Dallas oversees staff and vocational programs in three offices, located in St. Mary's, Calvert, and Charles counties.
Norma is passionate about ensuring that people with I/DD are provided opportunities to live, work and thrive in their communities, meeting with youth as they transition from high school and begin their journey with The Arc as young adults. Norma also works with local businesses and partners to ensure inclusion, through work and volunteer opportunities, for individuals supported by The Arc.
"I've had the pleasure of working with Norma for years as she has been promoted through our organization," said Director Ron Mould. "Norma is a true team player whose keen insight and positive attitude are invaluable."
Norma began working with The Arc in 2008 as an Employment Team Specialist. Since then, she has been promoted multiple times and has been recognized as both Employee of the Month and Employee of the Year. Norma recently graduated from The Arc's leadership training program, which is attended by rising employees of The Arc nationwide.
Prior to her employment with The Arc, Norma worked with locally based company, Direct Mail, most recently serving as their Production Manager for about four years. Collectively, Norma has over twenty-five years of supervisory and management experience. During her time with Direct Mail, Norma had the opportunity to work with and hire individuals from The Arc, which sparked her connection with the agency and its mission.
Norma was born in Washington, D.C., but was raised in Calvert County, graduating from Calvert High School.
About The Arc
The Arc Southern Maryland is a non-profit organization affiliated at the state level with The Arc of Maryland and at the national level with The Arc of the United States, which is the world's largest grass roots organization of, and for, people with intellectual and developmental disabilities (I/DD), including Down syndrome, autism, Fetal Alcohol Spectrum Disorders, cerebral palsy and other diagnoses. Since 1975, The Arc Southern Maryland has provided quality support and programs aimed at creating opportunities for independence and personal success for people with different abilities in inclusive communities. For information about The Arc of Southern Maryland's programs and services or to make a donation, visit
www.arcsomd.org
or call (410) 535-2413.