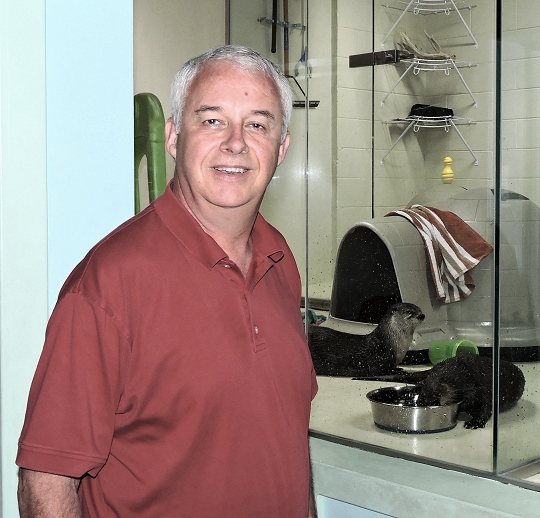 Perry Hampton is the new Curator of Estuarine Biology at CMM. (Submitted photo)
SOLOMONS, Md.
(Sept. 19, 2017)—The Calvert Marine Museum announced Perry Hampton as the new Curator of Estuarine Biology. Relocating from Long Beach, California, Hampton brings a wealth of aquarium, management, and boating experience. He began his career in 1981 as a volunteer at the New England Aquarium in Boston and has never looked back.
For the past 20 years, Hampton has been at the Aquarium of the Pacific. He helped open the aquarium and during his time there was promoted through the ranks to become Director/Vice President of Husbandry. He supervised 52 employees and over 250 volunteers and oversaw a collection of over 12,000 aquariums ranging from marine, brackish, and freshwater fish and invertebrates, mammals, birds, reptiles and amphibians. Hampton was involved with the Association of Zoos and Aquariums and was named the Accreditation Inspector of the Year in 2016.
Prior to the Aquarium of the Pacific, Hampton spent 15 years with the National Aquarium in Baltimore where he was responsible for all life areas of the aquariums. He moved from aquarist to senior aquarist, to dive coordinator, ending with Assistant Curator of Fishes.
When asked why the Calvert Marine Museum, Hampton said while his career was fulfilling, he was ready for a change and wanted to be in a smaller facility with a nice environment and rural setting. His wife is a Maryland native, so the idea of being closer to family and friends was ideal. "Hearing other CMM employees say that I'm really going to enjoy working here impressed me and I am very excited to begin this new stage of my life and career, as is my wife," said Perry Hampton. His hobbies include photography and being a Washington Capital's hockey fan.