Ground Breaks for New Prince Frederick Rescue Squad Building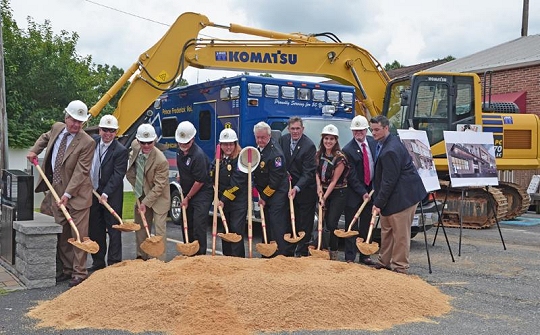 Pictured from left are Commissioner Vice President Evan Slaughenhoupt Jr., Commissioner Mike Hart, Commissioner Steve Weems, Prince Frederick Volunteer Rescue Squad Life Member and Board of Directors President Clarke Rawlings, Chief Stanis Inscoe, Life Member Sonny Brady and Commissioner Pat Nutter, with Commissioner President Tom Hejl between Dina and Joe Markakis from Whitney, Bailey Cox & Magnani, LLC Architects.
The Calvert County Board of County Commissioners held a groundbreaking for the new Prince Frederick Rescue Squad building Aug. 8. The $7.5 million, 23,000-square-foot facility will replace the current 36-year-old building located off Route 4 in Prince Frederick. Construction is expected to take about one year.
"We are thrilled to make good on our promise to provide better services to our citizens and provide a better environment for our volunteers," said board President Tom Hejl. "We cannot put a price tag on our volunteers' services," he added. "But I sure hope our volunteers receive this investment as a small token of our undying gratitude for all that they do."
Construction of New Appeal Convenience Center Underway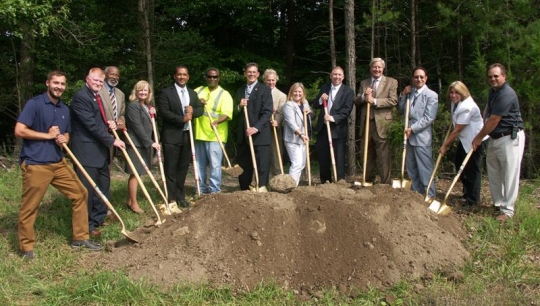 Pictured from left are Penn Ave Construction LLC President Cody Denton, Commissioner President Tom Hejl, Deputy County Administrator Wilson Parran, County Administrator Terry Shannon, GHD Project Engineer Ashton Rogers, Solid Waste Operations Supervisor Frances Jones, Commissioner Pat Nutter, Commissioner Steve Weems, S. E. Davis Construction LLC President Sue Davis, Commissioner Mike Hart, Commissioner Vice President Evan K. Slaughenhoupt Jr., Department of Public Works Director Rai Sharma, Public Works Deputy Director Enterprise Funds Julie Paluda and Solid Waste Division Chief Michael Thomas.
The Board of County Commissioners this month broke ground for a new $3 million convenience center that will be co-located at the Appeal Landfill.
The new state-of-the-art convenience center, located at 410 Sweetwater Road in Lusby, replaces an old undersized site and will better meet continued growth and the needs of the southern part of Calvert County. The new site is an innovative two-level layout that allows cars to move through the center in a continuous loop on the upper level while solid waste and recycling staff manage and move the refuse containers on the lower level.
"We are excited about this investment in our environment and for our citizens," said board President Tom Hejl.
Edward T. Hall Aquatic Center to Close for Annual Maintenance
The Calvert County Department of Parks & Recreation announces the Edward T. Hall Aquatic Center in Prince Frederick will be temporarily closed from Aug. 14 through Sept. 4 to complete annual maintenance and cleaning. The center will re-open Tuesday, Sept. 5 at 6 a.m.
During this time, pass holders may use Kings Landing Pool or Cove Point Pool. Kings Landing will offer extended lap swim hours from 6 a.m. to noon, Monday through Friday, while the aquatic center is closed.
Participants may register for fall classes and activities in person at the Parks & Recreation main office in Prince Frederick, Monday through Friday, 9 a.m.-4 p.m., or by calling the Edward T. Hall Aquatic Center at 410-414-8350.
To learn more about Calvert County Department of Parks & Recreation aquatic operations, visit online at
www.co.cal.md.us/CalvertPools
or call 410-535-1600, ext. 2649.
Public Hearing for Proposed Sign Regulations Scheduled for Aug. 22, 2017
The Calvert County Board of County Commissioners (BOCC) and the Calvert County Planning Commission will hold a joint public hearing to consider proposed amendments to several zoning ordinances regarding sign regulations. The hearing will begin at 7 p.m. at the Calvert Pines Senior Center, located at 450 West Dares Beach Road in Prince Frederick.
The proposed amendments are for the Calvert County Zoning Ordinance, the Dunkirk Master Plan, the Dunkirk Zoning Ordinance, the Huntingtown Zoning Ordinance, the Lusby Town Center Zoning Ordinance, the Owings Town Center Zoning Ordinance, the Prince Frederick Zoning Ordinance, the St. Leonard Zoning Ordinance and the Solomons Town Center Zoning Ordinance.
Citizens can view the proposed sign regulations online at the link provided below. For additional information, contact Calvert County Department of Planning & Zoning Deputy Director Mary Beth Cook at 410-535-2348 or via email at Marybeth.Cook@calvertcountymd.gov. Individuals who cannot attend the public hearing may submit written comments. These comments must be received by 4:30 p.m., Aug. 22, 2017, and may be submitted by emailing COMMISS@calvertcountymd.gov or through the U.S. mail to the BOCC at 175 Main St., Prince Frederick, MD 20678.
Proposed Regulations:
www.co.cal.md.us/index.aspx?nid=1318
Calvert County Museums and Library Partner to Present "At The Water's Edge" Lecture Series
Step back in time with "At The Water's Edge," a new lecture series highlighting how people enjoyed leisure time on the Chesapeake Bay from 1890 through the 1970s. These programs span across Calvert County from the north to the south beginning this September through April 2018 and are made possible by joint efforts of the Bayside History Museum, Calvert Library, Calvert Marine Museum and the Chesapeake Beach Railway Museum.
In the late 19th century, Calvert County saw a major transformation in the use of local waters and shoreline—from a place of work to a place of play. These years witnessed a decline in the number of people making a living on the water along with rapid growth in recreational boating. Fishing, boating and family amusements became popular with a burgeoning middle class. Steamboats, trains from the Chesapeake Beach Railway and improved roads for automobiles brought destination recreation on the bay and along Calvert's waterways within reach for an ever-increasing number of visitors.
The lecture series features 12 opportunities to explore this unique history:
Thursday, Sept. 14, 2017
7-8 p.m. at the Calvert Marine Museum
"African American Leisure Destinations around Washington, D.C." presented by Patsy Mose Fletcher; lecture provided by Calvert Marine Museum
Sunday, Sept. 17, 2017
3-4 p.m. at the Chesapeake Beach Town Hall
"African American Leisure Destinations around Washington, D.C." presented by Patsy Mose Fletcher; lecture provided by Chesapeake Beach Railway Museum
Thursday, Oct. 19, 2017
7-8 p.m. at the Calvert Marine Museum
"A Day at Chesapeake Beach Park, 1946-1972" presented by Joan Kilmon; lecture provided by Calvert Library
Thursday, Nov. 9, 2017
7-8 p.m. at the Calvert Marine Museum
"Where Did We Stay? 1890 to 1950" presented by Grace Mary Brady; lecture provided by Bayside History Museum
Sunday, Nov. 12, 2017
2-3 p.m. at the North Beach Town Hall
"Where Did We Stay? 1890 to 1950" presented by Grace Mary Brady; lecture provided by Bayside History Museum
Sunday, Jan. 14, 2018
2-3 p.m. at North Beach Town Hall
"Gambling" presented by Grace Mary Brady; lecture provided by Bayside History Museum
Thursday, Jan. 18, 2018
7-8 p.m. at Calvert Marine Museum
"The Happiest of All Showboat Stories: The James Adams Floating Theatre" presented by Patricia Samford; lecture provided by Calvert Marine Museum
Saturday, Feb. 10, 2018
3-4 p.m. at Calvert Library in Prince Frederick
"The Swimsuit Edition: Where We Swam and What We Were Wearing" presented by Joan Kilmon; lecture provided by Calvert Library
Sunday, Feb. 18, 2018
2-3 p.m. at North Beach Town Hall
Topic to be announced; lecture provided by Calvert Marine Museum
Thursday, March 22, 2018
7-8 p.m. at Calvert Marine Museum
"Gambling" by Grace Mary Brady; lecture provided by Bayside History Museum
Sunday, March 25, 2018
3-4 p.m. at Chesapeake Beach Town Hall
"Boats, Roads, Trains and Planes: A Look Back in Calvert County" presented by Dr. Ralph Eshelman; lecture provided by the Chesapeake Beach Railway Museum
Thursday, April 12, 2018
7-8 p.m. at Calvert Marine Museum
"Boats, Roads, Trains and Planes: A Look Back in Calvert County" presented by Dr. Ralph Eshelman; lecture provided by Calvert Marine Museum