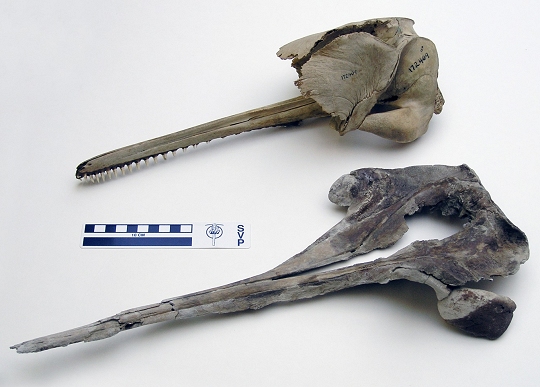 Figure 1. Araeodelphis, (lower jaw not preserved) is the most archaic known member of the family (the Platanistidae) to which the South Asian river dolphin is also a member (background, skull shown without lower jaw). Scale bar is in centimeters. CMM Photo by S. Godfrey.
SOLOMONS, Md.
(April 13, 2017)—A rare dolphin fossil found along Calvert Cliffs in 1997 has been fully identified. A scientific paper documenting this find and authored by Stephen J. Godfrey at the Calvert Marine Museum, Lawrence G. Barnes of the Natural History Museum of Los Angeles County, and Olivier Lambert at the Institut Royal des Sciences Naturelles de Belgique, was published online today in the Journal of Vertebrate Paleontology (
dx.doi.org/10.1080/02724634.2017.1278607
) .
The nearly complete skull (Figure 1) was discovered by Mary Kidd along Calvert Cliffs in 16-17 million year old sediments of the early Miocene, and collected by David Bohaska and Kidd in 1997. It has been in collections at the United States National Museum of Natural History (Smithsonian Institution) since that time and has recently been described and confirmed as an ancient relative of the South Asian river dolphin family, the Platanistidae. This archaic dolphin skull has been referred to the extinct species Araeodelphis natator; a scientific name with Greek origins that means "the thin swimming dolphin"; reference to its slender bony snout. With this more complete skull, we now know that the early platanistid Araeodelphis was able to echolocate, had relatively large fully functional eyes, lacked the facial crests associated with the highly specialized sonar system of the living South Asian river dolphin, and lived in the ocean.
The vast majority of dolphins are marine, but several species live exclusively in freshwater environments. The endangered South Asian river dolphin (aka the Ganges river dolphin), Platanista gangetica (Figure 2) is one of those kinds. It inhabits freshwater rivers in India, Pakistan, Bangladesh, and Nepal. Although nearly blind, these mammals navigate the turbid waters with a very specialized form of sonar. The South Asian river dolphin has been recognized as the National Aquatic Animal of India, and it has been named as the National Mammal of Pakistan.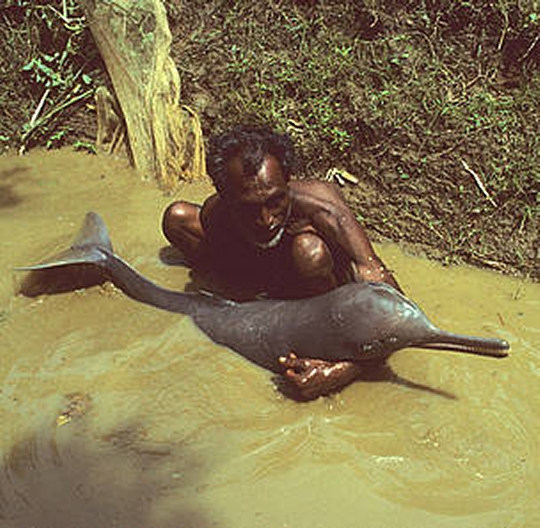 Figure 2. Bangladeshi fisherman with a South Asian river dolphin (Platanista gangetica), Karnaphuli River, Bangladesh. © François Xavier Pelletier / WWF