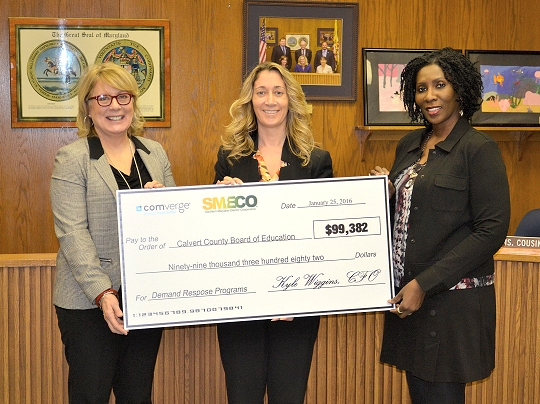 SMECO and Comverge/CPower presents Calvert County public schools with a check for $99,382 for participating in the Demand Response program. Pictured from left are Suzanne Levine, CPower account manager, Jennifer Raley, SMECO energy and technology programs manager for demand-side management, and Pamela Cousins, president of the Calvert County Board of Education.
HUGHESVILLE, Md.
(April 12, 2017)—Southern Maryland Electric Cooperative (SMECO) and energy management company Comverge/CPower recently issued Calvert County's public schools almost $100,000 in bill credits and rebates for helping the cooperative reduce peak energy consumption during 2016.
The Calvert County school system, which has participated in SMECO's demand response program for six years, is able to shed load in 21 of its buildings to reduce energy use on very hot days when energy demand and energy costs are at their peak. On those days, the cooperative asks participating customers to cut back on their usage. Large commercial accounts can shut off equipment, run equipment less often, or adjust the temperature settings on air conditioning systems, depending on the type of facility. Participating customers receive credits based on the amount of load they reduce.
On February 9, representatives from SMECO and Comverge/CPower recognized the school system's participation by presenting a symbolic check for $99,382 to the Calvert County Board of Education. The amount is based on the school system's load reduction in 2016.
"Participating in Demand Response has opened the doors to opportunities we otherwise wouldn't have access to. As a result of this partnership with Comverge and SMECO, Calvert County Public Schools continue to reduce our energy consumption, saving our school system valuable dollars," said Sheila Stevens, energy and environmental specialist for Calvert County Public Schools.