Board of County Commissioners Celebrates Completion of First Citizens Academy, Honors Participants
The Calvert County Board of County Commissioners yesterday presented certificates of completion to the graduates of the first Calvert County Citizens Academy. The academy offered 21 residents an in-depth look at how Calvert County Government works through an informative, fast-paced and free seven-week program.
County department directors and employees shared their departments' mission and provided unique insight into the day-to-day operations of Calvert County Government for three hours every Thursday evening between Jan. 12-Feb. 23. Participants also got behind-the-scenes tours of the Calvert Marine Museum, the Edward T. Hall Aquatic Center and the Calvert County Detention Center.
"I am extremely pleased with how our inaugural program turned out," explained Calvert County Administrator Terry Shannon. "Our staff did a fantastic job highlighting the vital role county government plays in the well-being of our communities and the participants were very engaged. I am looking forward to making this program an annual event."
"It was informative and an enlightening experience," shared participant and Lusby resident Lauren Elyard. "I learned so much about our local government and the place that I call home. Every person we met along the way really exemplified civic pride and duty, and it was so apparent how much everyone really loves what they do, and that they are here to make our home the best place it can be."
Pictured here with the board to receive their recognition are Calvert County Citizens Academy participants Terese Wells, Barbara Long, John Sullens, Erin Knowles, Christy Greene, Evelyn Signor and Lauren Elyard. In the back row, from left are County Administrator Terry Shannon, Jacob Miller, Michael Sweeney, Cynthia Hillen, Malcolm Funn, Mariann Crisman, Larry Brown, Ivan Behel and Leonard Zuza. Graduates not pictured are participants Inez Claggett, Jennifer Cognata, Marilynn Hansen, Michael King, Benjamin Krause and Leslie Taylor.
Learn more about the Citizens Academy at
www.co.cal.md.us/index.aspx?NID=2094
Comprehensive Plan Workshop Rescheduled to April 20
The Calvert County Comprehensive Plan workshop on Preserving Rural Character and Directing Growth to Existing Population Centers has been rescheduled from Thursday, April 6 to Thursday, April 20. The public is encouraged to attend the workshop scheduled for 6:30 p.m. at the College of Southern Maryland, Prince Frederick, Building B, Room 104.
Before each workshop, an issue paper will be posted on line for review. The issue papers are short documents that summarize major ideas and provide possible strategies for dealing with each issue. The issue paper for the April 20 workshop will be available by April 6. Citizen input from the workshops will be used to develop the Comprehensive Plan.
Webcam Captures Ospreys' Return to Calvert County
The osprey, an avian harbinger of spring, has returned to Calvert County. The migratory birds of prey return from southern wintering spots about this time each year to nest throughout the Chesapeake Bay region, especially along the Patuxent River. A nesting pair recently arrived at Kings Landing Park in Huntingtown and can be viewed by webcam at the link provided below.
Ospreys often return to the same nesting site each year. Their nests are made of large twigs and branches perched in trees or more frequently on buoys, man-made platforms, even dock house roofs. The birds feed almost exclusively on fish, so are never very far from water.
"The return of the osprey, almost to the day each year, and the fidelity to their nest site inspire a sense of wonder," shared Calvert County Natural Resources Division Chief Karyn Molines. "The healthy populations are a testament that our environmental protection efforts make a difference. Residents of Calvert County are fortunate to have places like Kings Landing Park and Flag Ponds Nature Park to observe these magnificent birds."
The OspreyCam was installed in 2016 to monitor a nest at Kings Landing Park as part of the Calvert County Board of Education CHESPAX program, supported by a grant from Cove Point Natural Heritage Trust. Calvert County Natural Resources Division assisted in building the camera platform, installing the camera and monitoring the nest.
Ospreys are being studied by Calvert County seventh-grade students to illustrate the interconnectedness of the land, water, plants and animals living in the Patuxent River. Local teens visited the nest in July to band the young osprey.
View the webcam at
www.ipcamlive.com/chespaxosprey
County Celebrates Completion of New Prince Frederick Water Tower
The Board of County Commissioners recently celebrated the completion of the new water tower in Prince Frederick. The tower stands next to Calvert High School on Fox Run Boulevard and adds 217,000 gallons of daily water production capacity and 750,000 gallons of water storage capacity. This new infrastructure will support current and future commercial and residential requirements and improve fire service in Prince Frederick.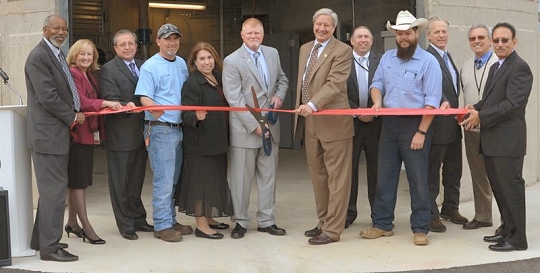 Pictured here during the ribbon cutting ceremony are Deputy County Administrator Wilson Parran, County Administrator Terry Shannon, Senior Project Manager of Dewberry Consultants Reza Emtiaz, Water & Sewer Division Plant Supervisor Christopher Hall, Department of Public Works Deputy Director Enterprise Funds Julie Paluda, Commissioner President Tom Hejl, Commissioner Vice President Evan K. Slaughenhoupt Jr., Commissioner Mike Hart, Water & Sewer Division Operations Superintendent James Ritter, Commissioner Steven R. Weems, Water & Sewer Division Chief Wayne Raither and Department of Public Works Director Rai Sharma. (Photo: Calvert Co. Gov.)