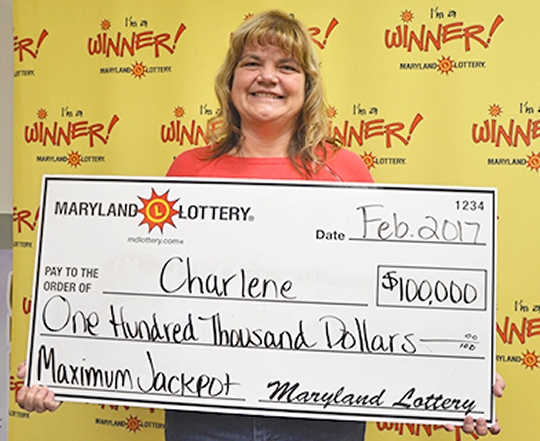 Charlene displays her ceremonial check for $100,000. She elected to not publicly release her last name.
BALTIMORE
(Feb. 10, 2017)—Good things happened in threes for lucky St. Mary's County resident "Charlene," who bought three Maryland Lottery scratch-offs and won all three times. Her most prestigious prize on the day of her winning streak was $100,000 on the Maximum Jackpot game.
"I really don't play on a regular basis," said the federal government employee. "I play here and there and picked the Maximum Jackpot because it is yellow and that is my favorite color!" It just so happened the winning ticket number is 030 as well.
After realizing the size of her top prize, Charlene phoned her parents to share the news—at 5 a.m.! They were not expecting good news when her father answered the phone at that hour. He asked three times, "Are you sure it is 100K?" She plans to share her winnings with family members and is planning a family vacation.
After claiming the prize at Lottery headquarters, the winner and her parents headed to Horseshoe Casino in hopes of finding another fortune by having three people play three games.
Her lucky Lottery retailer, Dash In #13533 located at 30100 Three Notch Road in Charlotte Hall, is also a winner. For selling a top-prize scratch-off in the $10 game, Dash In will receive a $1,000 bonus from the Lottery.
There are plenty of unclaimed prizes remaining in this game, including two more $100,000 prizes, three $10,000 prizes and thousands of others ranging from $10 to $1,000.