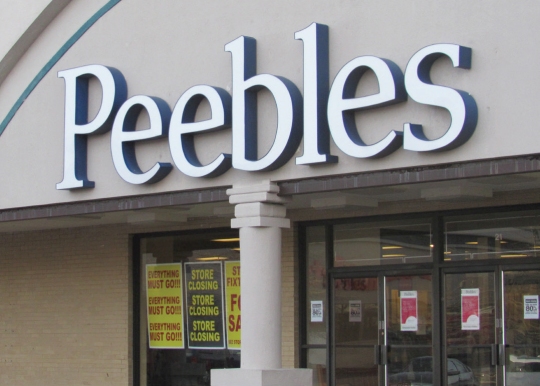 The Peebles department store in St. Mary's Square Shopping Center. (Photo: Guy Leonard, County Times)
HOLLYWOOD, Md.
(Jan. 5, 2017)—The Peebles department store, which has stood as an anchor business in St. Mary's Square Shopping Center for about 40 years is set to close its doors this month.
"Our tentative closing date is Jan. 14," a manager at the store said in a telephone interview, Wednesday.
For years the Peebles had served as a department store and one of the few places to shop for clothing and other domestic goods in the Lexington Park area after it opened, but in recent years it had been changed to a clearance store.
Bria Worthington Lundy, spokesperson for the chain store's operation, based in Houston, Texas, said that the store first opened in 1973 and was only changed into a clearance outlet in December of 2014.
She said that the store simply had not maintained its ability to bring in sales dollars as it had in the past.
"It was a difficult decision after being in the community for so long," Lundy told The County Times. "But with our looking to strengthen our brand by looking to put our dollars into our more profitable stores, this location just was not as profitable as we need them to be."
Worthington said that economic changes in the Lexington Park area as well as stiff competition from newer retail stores in the county like Target and Kohl's played a part in the closing of the aging store.
But overall, she said, the Southern Maryland market for the Peebles brand was a strong one as the store in Prince Frederick in neighboring Calvert County continued to be a strong sales performer.
Lundy said that there are about 12 sales associates working at the store and they may find placement at the Prince Frederick store or could find assistance from the company in finding other employment.
Chris Kaselemis, director of the county's Department of Economic Development, said the store's closing could be a chance to get another needed business at the St. Mary's Square Shopping Center.
"Anytime you have a vacancy it's a challenge," Kaselemis said. "And Lexington Park that's a little bit of a challenge, but I think it's also an opportunity."
For more local news stories from the County Times newspapers online, visit ct.somd.com/