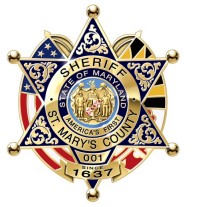 LEONARDTOWN, Md.
(Oct. 7, 2016)—The St. Mary's County Sheriff's Office released the following incident reports.
DEATH INVESTIGATION: On October 7, at approximately 10:30 a.m., patrol deputies responded to the 23000 block of Marshall Road in Lexington Park for the report of a tree falling on a victim causing death. The Criminal Investigations Division is continuing the investigation and additional details will be released as they become available.
VEHICLE STRIKES DEPUTY: On October 7, at approximately 7:46 p.m. deputies were assisting the Maryland State Police with a motor vehicle collision investigation on Point Lookout Road in the area of Adkins Road in Great Mills, Maryland. During the course of the investigation, Sheriff's Office Cpl. Jamie Davis was struck by a pickup truck being operated by
Danny Ray Adkins, Jr., age 35, of Lexington Park
. The investigation revealed the motor vehicle being operated by Adkins was being directed to pass through the accident scene, when for unknown reasons the motor vehicle struck Davis with the driver's side fender and mirror knocking her to the ground.
Davis was transported to MedStar St. Mary's Hospital with non-life threatening injuries and was later released. Adkins was issued citations for Failure to Obey Traffic Device, Fail to Control Speed to Avoid Collision, and Fail to Drive Curb for Emergency Vehicle.
CREEPY CLOWNS: There have been several reported incidents of social media postings attributed to the "Creepy Clowns" and generalized threats directed at public schools in Maryland. The Sheriff's Office and St. Mary's County Public Schools are maintaining constant communication with each other and other law enforcement and safety entities. To date there have been numerous reports in states across the nation and all of the occurrences locally are being fully investigated and precautionary measures are being taken in response to any threats.
ARMED ROBBERY IN GREAT MILLS: On Oct. 2, at approximately 8:55 p.m., deputies and Maryland State Police responded to the area of South Essex Drive behind the Burger King on Great Mills Road for a reported armed robbery. The victim advised the suspect approached his vehicle asking for a cigarette before producing what appeared to be a semiautomatic handgun and pointing it at him while demanding money. The suspect grabbed the victim's cash and cigarettes from his hands and then fled on foot from the scene.
The suspect is described as a white male in his early 30's, approximately 5'10" to 6'0" tall, shoulder length sandy blonde hair, wearing blue jeans, a red hooded sweatshirt, and a black baseball cap.
Detectives are asking anyone with information about this crime to contact Detective Skyler LeFave at 301-475-4200, ext *1983 or by email at Skyler.Lefave@stmarysmd.com. Callers may also call Crime Solvers at 301-475-3333 (callers can remain anonymous, or text a tip to "TIP239" plus your message to "CRIMES" (274637).
Incident Briefs 10/5
BREAKING AND ENTERING TO MOTOR VEHICLES: During the overnight hours of 10/3 into 10/4, unknown suspect(s) entered multiple motor vehicles in the neighborhood of Bay Ridge Estates in Lexington Park. The case is being investigated by Dep. B. Gaskill. CASE# 51549-16, 51559-16
THEFT: Unknown suspect(s) stole a victim's handbag that contained personal belongings while the victim was walking to the bus in the 21000 block of Lexwood Court. The suspects fled the area and deputies attempted to locate the suspects with negative results. The case is being investigated by Dep. J. Smith. CASE# 51517-16
BREAKING AND ENTERING TO A MOTOR VEHICLE: During the overnight hours of 10/3 into 10/4, unknown suspect(s) entered a motor vehicle and stole property in the 20000 block of Skipjack Court in Lexington Park. Dep. J. Bush is investigating the case. CASE# 51549-16, 51559-16
Incident Briefs 10/7
BURGLARY TO MOTOR VEHICLE: During the overnight hours, an unknown suspect entered an unlocked motor vehicle in the 44000 block of Willow Oak Court in California. DFC T. Wesner is investigating the case. CASE# 51901-16
BURGLARY: Unknown suspect(s) entered a residence in the 21000 block of Weeping Willow Lane in Lexington Park. Deputy R. Roszell is investigating the case. CASE# 51912-16
BURGLARY TO A MOTOR VEHICLE: Unknown suspect(s) entered a motor vehicle in the 44000 block of Woodlake Court in California. Nothing appeared to be stolen. The case is being investigated by Cpl. D. Corcoran. CASE# 52018-16