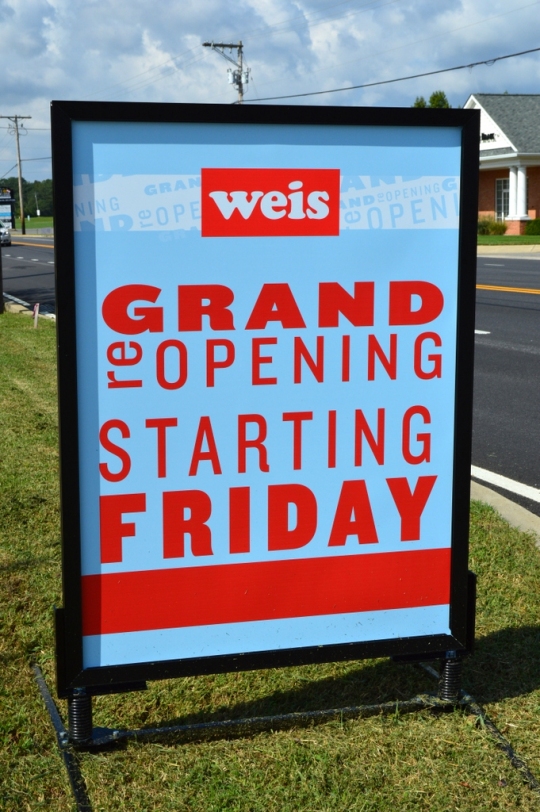 A temporary roadside sign in Callaway promotes the grand opening of the food retailer on Friday. The storefront sign has not been installed as of noon today.
CALLAWAY, Md.
(Oct. 4, 2016)—Weis Markets, which recently purchased the assets of 38 Food Lion supermarket locations operating in the states of Maryland, Virginia and Delaware, is set to open five of their new locations in the tri-county area this Friday. Three of the 38 stores in the area already sport the Weis banner—locations in Accokeek, La Plata and Prince Frederick opened on Friday, Sept. 30.
Delhaize Group, a Belgian food retailer and the parent company of Food Lion, sold off the stores as part of their merger with Ahold, a food retailer based in the Netherlands. "These divestments are being made in connection with the United States Federal Trade Commission's (FTC) pending review of the proposed merger between the two companies," the companies wrote in a press release on July 13.
Weis Markets was founded by 2 brothers in 1912 in Sunbury, Pa. Today, the privately held company is run by one of the brother's grandsons and is still based in Sunbury.
The stores set to open Friday include:
• 45315 Alton Lane, California
• 20995 Point Lookout Road, Callaway
• 19 Saint Mary's Square, Lexington Park
• 210 H G Trueman Road, Lusby
• 13300 H G Trueman Road, Solomons
The stores due to open Friday were closed to the public last Friday night. While the large storefront "Food Lion" sign on the Callaway location was promptly removed, the building still does not bear a Weis sign as of noon today. However, the new roadside sign is in place.
Many holders of the Food Lion "MVP Customer" cards report having received Weis "Preferred Shoppers Club" cards in the postal mail this week. As with the Food Lion card, Weis customers will be able to load digital coupons on the card. Weis is also promoting double coupons "every day, every week."
Weis is also advertising a price matching guarantee on select, tagged items. The store promises to "give you double the difference with purchase" if a local competitor advertises a lower price.
In what is likely good news for local farmers, Weis is also advertising that they buy locally grown produce for sale in their stores. Mark Powell, spokesman for the Md. Dept. of Agriculture, confirmed today that while representatives of Weis have attended previous buyer-seller events in Maryland, they have not specifically reached out to the Dept. regarding making connections with local growers in So. Md. as of today.
Susan McQuilkin, of the So. Md. Agricultural Development Commission, notes that retailer's definitions of local produce may vary from company to company. While some companies may define local as within the immediate region, others may have a wider definition and their radius may include several states.
While Weis has made no public statement regarding their specific plans to buy local in So. Md., their Web site states that they buy produce "from approximately 150 farmers in Pennsylvania, Maryland, New Jersey and New York,"—all states where they have retail locations.
McKays grocery stores—a locally family-owned business—also has a long history of supporting local farmers by selling their produce.
There are two wholesale farmer's auctions in the region where businesses—such as restaurants and grocery retailers—can purchase locally grown produce. The Loveville Produce Auction is located in Mechanicsville on Bishop Road and the Southern Maryland Regional Farmer's Market is located at 11701 Crain Hwy in Cheltenham.
Consumers interested in supporting local farmers can find a list of farmer's markets at
www.smadc.com/publications/SMADC_MarketGuide.pdf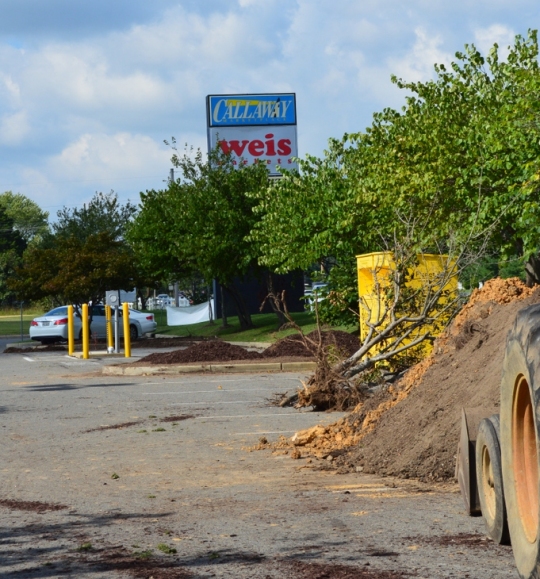 The new roadside sign is up at the Callaway location. The parking lot is full of cars and the landscaping is being cleaned up in preparation for Friday's opening.