LEXINGTON PARK, Md.
(Oct. 4, 2016)—A six foot tall osprey has been spotted in Southern Maryland, and it was wearing a flight suit. This past weekend, attendees at the Patuxent River Naval Air Museum's annual volunteer appreciation dinner got a sneak peak of Oscar Falco, the new museum mascot.
Oscar Falco, named after it's area namesake, the Osprey Falcon, was designed by world renowned aviation artist Hank Caruso in his signature "aerocature" form.
"I have never 'met' one of my characters before; I hadn't anticipated being so excited to meet Oscar. Shaking my creation's hand (wing?) was truly an exhilarating experience for me."
Caruso originally had the idea for the mascot after a Cub Scout pack toured the museum and asked some very intelligent and perceptive questions, leading to discussions on how to engage younger visitors. He went on to talk about the concept of the character, "An Osprey seemed like the perfect choice; they represent our area better than any other raptor… but he did need to have a look that reflected the aggressive personality associated with flight testing". Hank credits his wife Amy Houle Caruso with the idea and drive and effort that brought Oscar to become a "real bird."
"The mascot has been in the works for a long time, but we wanted something recognizable to take out into the community to represent and promote the museum" says Dan Bramos, the PRNAM Director of Marketing and Public Affairs.
Upcoming appearances for Oscar will be at the Oyster Festival, air expo block party and the air expo in October, the Veteran's Day parade in Leonardtown in November, and as many appearances at the museum as Oscar can fit in. Oscar can be seen with a "wingman" alongside for better communication and safety. If you are interested in having Oscar Falco appear at your meeting, business, or event, please contact the Patuxent River Naval Air Museum staff at 301-863-1900 or association@paxmuseum.com.
Visitors to the museum will witness a wide range of test and evaluation-centric artifacts including a replica A-1 Triad, the U. S. Navy's first aircraft; the X-35 prototype of the Navy latest aircraft; galleries of aircraft engines and ejection seats; and much more. No visit is complete without a stop at the flight simulators followed by a trip to the Flightline gift shop, which offers our latest and greatest aviation souvenirs.
Current hours of operation are 10 a.m. to 5 p.m. Tuesday through Saturday and noon to 5 p.m. on Sundays. Admission to the museum complex is five dollars for adults and three dollars for children, seniors and active duty personnel. Surprise appearances at the museum by Oscar are included with the admission. For more information and the rest of the interview with Hank Caruso, see the museum website at
www.paxmuseum.org.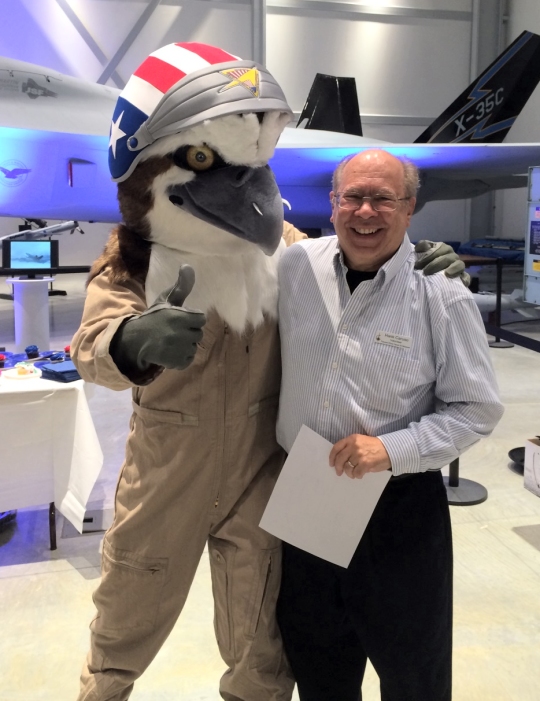 Patuxent River Naval Air Museum's new mascot Oscar Falco meets his creator, aviation artist and honorary naval aviator, Hank Caruso at the museum's recent volunteer appreciation dinner. Pax Museum photo by Jane Macone.