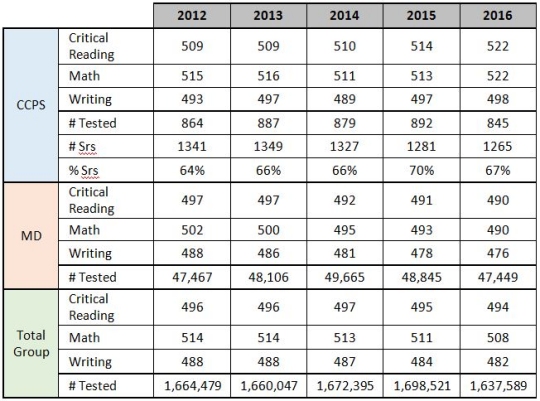 This chart shows how students in the Calvert Co. Public School system compared with the rest of the state in regards to SAT scores. (Source: CCPS)
Calvert SAT Scores Increase
According to data released by the College Board, SAT scores for the Calvert County Public Schools graduating class of 2016 increased in all three areas-critical reading, math and writing-that are measured by the exam. The composite increased to 1542 from 1524 in 2015. Critical reading increased eight points to 522; math increased nine points to 522; and writing increased one point to 498. Participation declined to 67% of the graduating class testing, down from a high of 70% in 2015.
Across Maryland, SAT scores dipped slightly, dropping in all three areas to a composite of 1456 from 1462 in 2015.
The College Board began administering a new version of the SAT to students in March 2016. Because of the SAT redesign, this year's performance data for the graduating class of 2016 includes students who took the old SAT through its last administration in January 2016. In prior years, scores of students who tested through June were included in the score reporting for a graduating class.
BOE Meeting Cancelled
The Board of Education meeting on October 20, 2016 has been cancelled due to scheduling conflicts. The Employee of the Month recognition scheduled for that date will take place at the meeting on November 17 at 7:00 p.m.
Student Artwork to be Displayed in Annapolis
Artwork by eight Calvert County Public Schools students has been selected for display in statewide exhibitions. The artworks are chosen from among those submitted to the Maryland State Department of Education by fine arts supervisors in the twenty-four Maryland school systems.
Calvert County Public Schools will be represented in 2016-2017 by the following students:
• Jacob Shanks, Calvert Country School;
• Carly McCarthy, Huntingtown Elementary School;
• Ryan Black, Mutual Elementary School;
• Lillian Barrick, Plum Point Elementary School;
• Conell Brandner, Calvert Middle School;
• Zari Archer, Plum Point Middle School;
• Erin Brown, Calvert High School; and
• Thessa Vu, Northern High School.
Some artworks will be displayed at juried art shows held biannually by First Lady Yumi Hogan, an active supporter of arts education, at a gallery she established in the House of Delegates Office Building. Others will showcased at the Louis L. Goldstein Treasury Building.
The exhibits are supported by the Maryland State Arts Council.
CCPS PARCC Scores Increase
The results of the second administration of the Partnership for the Assessment of Readiness for College and Careers (PARCC) assessments show gains for Calvert County Public Schools (CCPS) in both math and English language arts.
Students showed gains on the elementary English language arts assessment. The percentage of students scoring a 4 or 5 increased from 47% to 50%. Middle school students scoring a 4 or 5 remained steady at 48%.
Scores on the English 10 assessment showed the largest increase, from 51% scoring a 4 or 5 in 2015 to 67% in 2016. CCPS administered the English 11 assessment for the first time in 2016, and 70% scored a 4 or 5.
Both elementary and middle school math showed gains, as well. The percentage of students scoring a 4 or 5 increased from 45% to 53% at the elementary level and from 20% to 33% at the middle school level. Some middle school students took the geometry assessment, with 58% scoring a 4 or 5. Scores on the Algebra 1 assessment, taken by both middle and high school students enrolled in the course, stayed constant, with 29% of students scoring a 4 or 5.
PARCC assessments are scored on a five-point scale, with level 1 set as not meeting expectations and level 5 as exceeding expectations.
Scores on the PARCC Assessment are not being used for student, educator, school, or system-level accountability purposes at this time. Maryland is currently in the midst of reviewing and revising its accountability system under the new federal Every Student Succeeds Act.