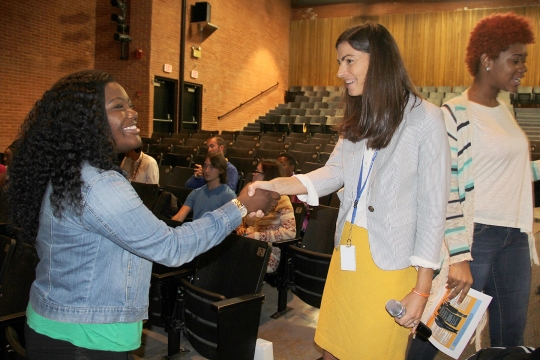 CRD Handshake: Rebecca Pearson, career and technology education specialist for CCPS, right, demonstrates the power of a firm handshake with Westlake High School junior Markayla Conner. Pearson shared with students tips on proper business etiquette at the school system's kickoff Tuesday for the Career and Research Development (CRD) program. The program provides enrolled juniors and seniors with work-based learning experiences.
LA PLATA, Md.
(Sept. 30, 2016)—More than 100 Charles County Public high school juniors received a crash course in professionalism, interviewing skills and how to ask questions of prospective employers at a Career Research and Development (CRD) Program kickoff event held this week at La Plata High School. The CRD program is available in all Charles County high schools for juniors and seniors interested in exploring the business and career world before they graduate. Interested students enroll in the program during their junior year and learn essential skills necessary for success in landing, and keeping, a job.
At Tuesday's kickoff event, Charles County Public Schools (CCPS) Deputy Superintendent Amy Hollstein welcomed students and talked about the importance of first impressions. "We want you to start the program on a positive note so you are ready to be successful this year. It's a wonderful way for you to meet people and remember to present yourself as a professional. You never know who you are going to meet in a couple of years that could open a door for you," Hollstein said.
As juniors, CRD students complete their first work-based learning experience in the classroom by learning about resume building, completing a job search, proper interviewing skills and areas of interest in which they may want to work. CRD teachers also work with juniors to learn basic concepts of personal financial literacy and successful career planning, as well as help them create a portfolio to use during an interview.
The work-based component of the CRD program is taken during a student's senior year and requires the student to work at least 10 hours per week. Teachers continue to work with seniors on career choices and job searches, preparing them for the workplace, problem resolution, building their portfolio and financial literacy.
This year's regional kickoff was the first held for the CRD program with a goal of providing students new to the program with information about how the program works. But most importantly, how these students can best prepare themselves for their future endeavors. Guest speaker Keith Grasso, a CCPS graduate and owner of Island Music Company, a small business located in downtown La Plata, spoke to students about the importance of hard work and first impressions in the workplace.
Grasso worked at a local music store during high school and said his experiences there, and relationships formed out of hard work and respect, helped him develop his passion to pursue a career that involved music.
Also invited to address the group was Tiarra McIlwain, a 2016 Thomas Stone High School graduate who earned the CRD Student of the Year title earlier this year. In addition to being recognized for a strong work ethic and exceeding the expectations of her employer, McIlwain was honored for her interviewing skills and ability to dedicate herself to a commitment, such as a job, while balancing her studies.
Annually, the CRD Student of the Year receives a $2,000 scholarship and McIlwain plans to use hers to enroll in a paramedic course to pursue her goal of becoming a paid paramedic. She credited her CRD experiences for leading her to the right path after graduation. "My portfolio helped me interview for the CRD award, with CCPS staff and local community members. What I learned in the CRD program helped me get this scholarship. My goal is to become a paid paramedic and this scholarship is helping me to pay for the course," McIlwain shared.
Staff from the CCPS Career and Technology Education (CTE) office provided an interactive presentation for the students in which they talked about dressing for the job you want, do's and don'ts for looking and being professional in the workplace and how to best prepare for a job interview. Traci Chappelear, CTE coordinator for the school system, stressed to the group the importance of working with their teachers to research job possibilities and finding employment.
"Work with your teachers to find a job. They are here to help you and prepare you for life after high school. Next year, there will be three of you in this room that will get a scholarship through the Student of the Year program," Chappelear said.
This school year, there are more than 225 students enrolled in the CRD program. The program was formerly known as the Cooperative Education Program, and provides a bridge from school to work, classroom instruction, work experience and on-the-job training related to a student's career goals.
The Cooperative Education Program was launched in 1971 at La Plata and Henry E. Lackey high schools, expanded to Thomas Stone High School in 1972 and then to Maurice J. McDonough High School in 1979. Westlake High School started offering the program in 1998. North Point launched the program in 2009 with its first senior class, and St. Charles High School added the program last school year. Students interested in the program can contact the CRD coordinator at their school.