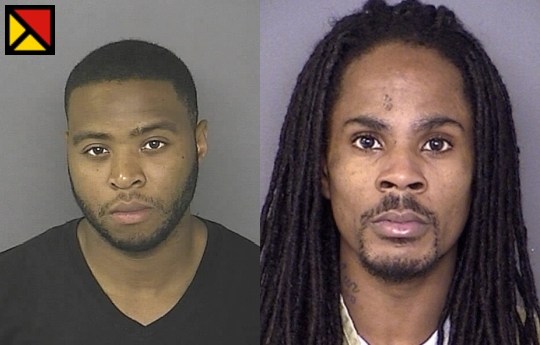 Quantaz Lamar Shields, age 28, of Leonardtown, Maryland; and Trevone Damone Butler, age 25, of Lexington Park.
HOLLYWOOD, Md.
(Sept. 26, 2016)—Trevone Damone Butler, who has been charged both locally and
federally
for a string of armed robberies last year, has pleaded to federal charges of obstructing interstate commerce, according to federal documents detailing his plea deal back in July.
Local prosecutors have stated that they will continue to pursue charges against Butler that alleged he was involved in the robbery of a CVS Pharmacy in Leonardtown back on October 28 of last year.
Sources close to the investigation of Butler and his alleged conspirator Quantaz Shields say that the defendants were stealing the money in an effort to help pay for the legal expenses of Tyreke Butler, brother of Trevone Butler, who was facing attempted murder charges.
Tyreke Butler has since been convicted and sentenced to 50 years in prison for the shooting of Robert Blake over a disputed drug deal; the shooting occurred back on Sept. 11, 2015.
According to indictments filed in U.S. District Court Shields was the entry man of the pair who committed the actual robberies while Trevone Butler provided the getaway vehicle.
Federal authorities with U.S. Attorney Rod Rosenstein's office alleged that both men took part in the robberies of The Sign of the Whale liquor store, the Super 8 motel and the Papa John's Pizza store in Lexington Park as well as the Dash-In and CVS Pharmacy in Leonardtown.
Trevone Butler, 25, of Lexington Park, faces charges of armed robbery, first-degree assault, conspiracy to commit armed robbery, theft, use of a firearm in commission of a felony and the illegal possession of a regulated firearm.
Butler is scheduled for a trial in December.
For more local stories from the County Times newspapers, visit ct.somd.com