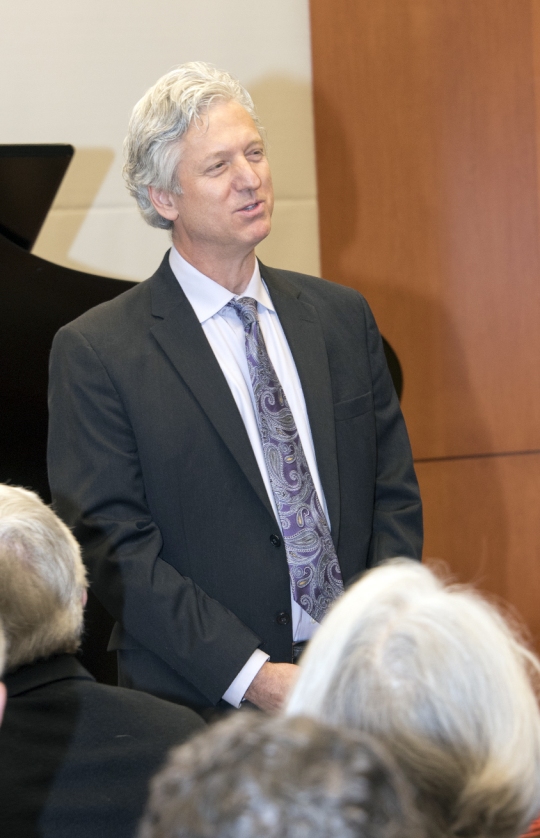 Renowned pianist Brian Ganz will open the 10th season of the Ward Virts Concert Series at 3 p.m. Oct. 9 at the Prince Frederick Campus, 115 J.W. Williams Road, Prince Frederick in the Multipurpose Room 104 of Building B. Admission is free, and seating is open but limited.
LA PLATA, Md.
(Sept. 26, 2016)—The College of Southern Maryland will open the 2016-17 Ward Virts Concert Series with classical pianist Brian Ganz at 3 p.m. Oct. 9.
Ganz's performance is the first of six in the annual series, all of which are held at the Prince Frederick Campus, 115 J.W. Williams Road, Prince Frederick in the Multipurpose Room 104 of Building B. The season opener of the new season is a memorial concert dedicated to the series' namesake Ward Virts, a talented Southern Maryland pianist who passed away unexpectedly in 1993.
"For more than a decade, the Ward Virts Concert Series at CSM's Prince Frederick Campus has hosted free performances by regional and national world-class artists and groups. Every performance features our concert grand Bösendorfer piano which was donated to the campus by the friends of Ward Virts," said Dr. Richard Fleming, vice president and dean of the Prince Frederick Campus. "This is truly a wonderful opportunity for residents to experience musical performances in a local setting and at no cost."
A group of Virts' friends and classmates conceived the Ward Virts Piano Project to bring the love of life, beauty and music that Ward embodied to a new generation of Southern Maryland students, performers and appreciative audiences.
Pianist Ganz has performed in the series since its inception.
Ganz is widely regarded as one of the leading pianists of his generation. A graduate of the Peabody Institute of Johns Hopkins University, he has appeared as a soloist with such orchestras as the St. Louis Symphony, the St. Petersburg Philharmonic of Russia, the Baltimore Symphony, the National Symphony, the National Philharmonic, the City of London Sinfonia and L'Orchestre Philharmonique de Monte Carlo.
Ganz has been fulfilling a 10-year project, "Extreme Chopin," started in 2011 in which he will perform the well more than 200 complete works by Frédéric Chopin at the Music Center of Strathmore in Bethesda.
"There isn't much about Chopin that Brian Ganz doesn't know," The Washington Post wrote. "His delight and wonder in this music seem to grow, apparently without bounds, as time goes on."
A self-described "active explorer of the many ways in which the study and performance of great music can remind us of the Spirit that unites all living things," Ganz is a longtime student of the book "A Course in Miracles" and is an ardent seeker on the spiritual path. He has performed in numerous benefit concerts and is a founding member of the Washington, D.C., chapter of Artists to End Hunger.
Ganz is on the piano faculty at St. Mary's College of Maryland, where he is an artist-in-residence, and is a member of the piano faculty of the Peabody Conservatory. He is the artist-editor of the Schirmer Performance Edition of Chopin's Preludes (2005).
The Ward Virts Concert Series is presented by sponsors Dr. and Mrs. Henry Virts, Edward and Patricia Mehosky, Mary Anna Phillips, Nancy Powell Hempstead in memory of Roger Powell, Stovy and Anne Brown, and the CSM Foundation. Grants from the Arts Council of Calvert County and the Maryland State Arts Council also make the performances possible.
Admission is free, and seating is open but limited. No tickets or reservations are needed. All performances begin at 3 p.m.; doors open at 2:30 p.m. For information, contact 443-550-6011, rfleming@csmd.edu or
www.csmd.edu/community/the-arts/music/ward-virts-series/index
.
The complete schedule for the 2016-17 Ward Virts series is Brian Ganz (piano), Oct. 9; Jacques Wieciech (countertenor), Nov. 13; Michael Adcock (piano), Feb. 12; The Eric Byrd Trio (jazz), March 12; Hannah Baslee (mezzo-soprano), April 9; and Ara Gregorian, (violin) May 14.