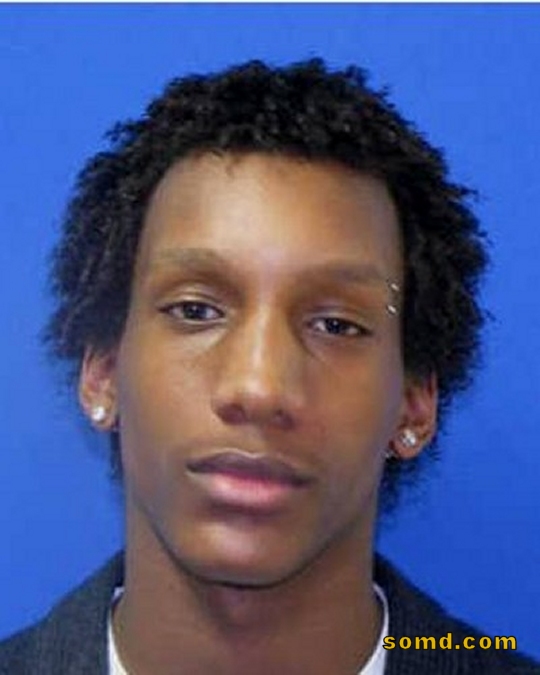 Joshua Terrell Mebane, now 21, as he appeared when he was 17, not long after the murders.
LA PLATA, Md.
(Sept. 23, 2016)—Tony Covington, State's Attorney for Charles County announced that on September 23, Joshua Terrell Mebane, 21, was transported from a federal penitentiary to the Charles County Detention Center where he will be held during the adjudication of charges of First Degree Murder and Attempted Murder for events that occurred on October 26, 2012.
In 2012, Mebane was charged with the first-degree murder of Teresa Bass and the Attempted Murder of her husband Jerry Bass, Jr. as the couple walked their dog in the Hampshire neighborhood of Waldorf. Officers working security at the Westlake football game that night heard several gunshots and were on the scene within a minute. Teresa Bass was taken by ambulance to Civista Medical Center in La Plata, where she died. Jerry Bass Jr. was flown to an area hospital, where he was at one point listed in critical condition with multiple gunshot wounds to his back.
Mebane was developed as a suspect in the Bass shootings during the investigation of the murder of cab driver Quadar Muhammad, 44, in Washington DC on November 7, 2012. During that investigation Mebane was identified as the shooter of Mr. and Mrs. Bass less than 2 weeks prior to the murder of Mr. Muhammad. Mebane was arrested, charged and convicted of killing Mr. Muhammad. In November of 2015 Mebane was sentenced to 45 years in prison for that killing. Mebane was housed in the District of Columbia while awaiting trial from 2012 until late last year when he was sent to a federal penitentiary to serve his sentence. Finally he was transported from that federal facility to Charles County to face charges.
Mebane will be arraigned on Monday September 26, 2016 in the Circuit Court for Charles County.
Police sketch of the suspect released after the murder.
RELATED STORIES:
Updates in Waldorf Shooting Investigation, October 29, 2012
somd.com/news/headlines/2012/16133.php
Teen Charged in Waldorf Double Shooting, November 13, 2012
somd.com/news/headlines/2012/16187.php
Waldorf Teen Indicted for Murder in Hampshire Shooting, January 31, 2013
somd.com/news/headlines/2013/16450.php
Police: Teen couple plotted to rob, kill D.C. cab driver, The Washington Times, November 12, 2012
www.washingtontimes.com/news/2012/nov/12/prosecutors-teen-couple-plotted-rob-kill-dc-cab-dr/