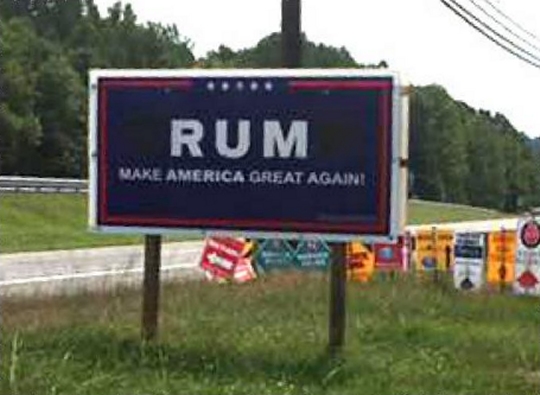 Photo provided by Calvert Co. Republican Central Committee.
HOLLYWOOD, Md.
—Two Donald Trump for President campaign signs were recently reported damaged in Calvert. The Calvert County Republican Central Committee is offering a $500 reward for information leading to the arrest and prosecution of anyone damaging a Republican candidate's campaign sign.
For one sign on Route 4 in Huntingtown, the letter T and P were blackened out by a marker. The other damaged sign was on Route 231 in Prince Frederick and had its T and P cut out. Both signs were four feet by eight feet large and were on private property. The central committee has fixed both signs by replacing and repainting the letters.
"I understand that in a highly polarized election, people get frustrated and take actions," said Greg Ostrander, chairman of Calvert's Republican Central Committee. But Ostrander said he wouldn't support the act of anyone defacing a candidate's campaign signs, regardless of whether it's a sign for a Republican and Democrat running for office.
Calvert has about two-dozen large Trump signs and 700 small signs all over the county, according to Ostrander.
"Everyone has a right to their political opinion," Ostrander said, adding that disagreeing with someone doesn't mean they can hinder other peoples' freedom of political speech.
Ostrander said he hopes this reward would give residents incentives to monitor and report such behavior and stop people from doing it again.
Last week's incident is the first time a political candidate's sign being vandalized in this election cycle. The act of damaging or stealing a campaign sign, however, is nothing new.
County Commissioner Mike Hart said he lost more than a dozen signs when he ran for commissioner in 2014. At the time, he also gave out magnet bumper stickers to supporters. Often times people came to his liquor store in Lusby and asked him for a new bumper sticker because the one they had on the car got lost.
"Those were heavy magnet bumper stickers that can't slide off," Hart said. "It's sad when stuff like that happens. Men and women die for the right to vote."
Calvert Public Schools' Board of Education Member Kelly McConkey experienced similar issues when he ran for school board in 2012 and then for commissioner in 2014.
"It happens every time," McConkey said. His signs were never vandalized, but some got stolen. He said he lost about five or six large signs in 2014.
The cost could add up quickly if a candidate has a few large signs missing, McConkey said. The small yard signs cost about $4.50 a piece and large signs of four feet by eight feet cost about $80 a piece.
The motivation behind vandalizing a political sign may not always be politically charged.
"The last time this happened was two years ago," said Todd Ireland from the Sheriff's Office.
"They were high-school-age kids who did it as a prank," Ireland said. "In lieu of being charged, the parents of the children agreed it would be best to make them replace the signs they destroyed."
According to the Sheriff's Office, charges for damaging or defacing political campaign signs is destruction of property. If the signs were stolen, the individual responsible would be charged with theft.
For more local stories from the County Times newspapers, visit ct.somd.com