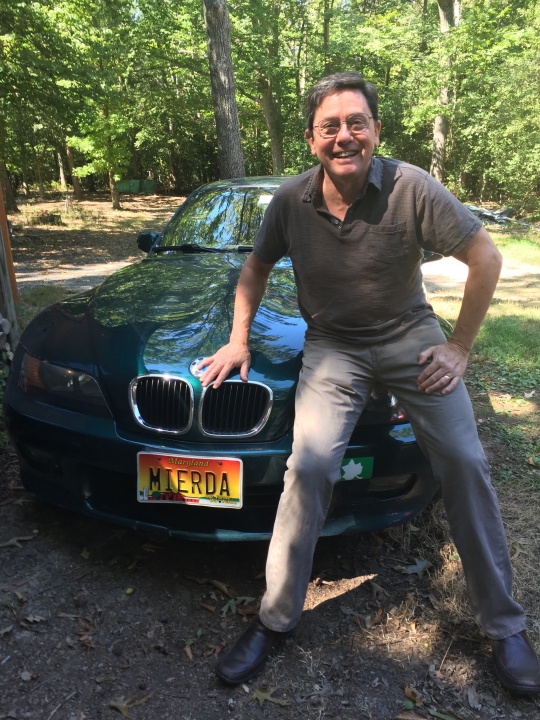 John T. Mitchell poses with his car's "MIERDA" license plate, which the Maryland Motor Vehicle Administration recalled in 2011. The plate is the subject of a case in the Maryland Court of Appeals. Sept. 14, 2016. (Courtesy photo from John T. Mitchell.)
ANNAPOLIS
(Sept. 15, 2016)—The Maryland Court of Appeals is considering whether the state's Motor Vehicle Administration acted unconstitutionally in recalling vanity license plates sporting a Spanish scatological word.
In 2009, John T. Mitchell of Accokeek, Maryland, requested and received vanity license plates from the Maryland MVA that read "MIERDA," a Spanish term that translates to "shit" or "junk."
It was not until December 2011 that he received a letter from the Motor Vehicle Administration stating that his plates were issued in error and asking that Mitchell return them.
"I thought it was a possibility I might get a letter explaining why they wouldn't issue it, but I got the tag in the mail, no issues with it," Mitchell said.
Maryland Assistant Attorney General Neil Jacobs, who represented the MVA in the most recent appeal, referred in court to an "Objectionable Plate List" that the MVA maintains. Though not available to the public through the MVA, The Baltimore Sun published the list in 2015, Jacobs said.
The list, as published [
github.com/baltimore-sun-data/banned-license-plates/blob/master/full-csv
], contains "MIERDA" as well as at least 13 character combinations that include the word "SHIT" and numerous other variations of the word.
"It builds over time…All different combinations of derogatory terms, scatological terms, obscenities that can be created by the manipulation of letters and numbers," Jacobs said in court.
Mitchell, who lived in Chile as a child and is a native Spanish speaker, thinks 'mierda' is "perfectly innocuous and a cute word."
The word, Mitchell argued, is not obscene under Maryland state law because it does not depict sexual content. While the Maryland Court of Special Appeals ruled that "mierda" is not an obscene word, the Motor Vehicle Administration, as an entity of the state, may restrict uses of profanity, even if it is not obscene language.
"These words can vary based on the language, based on the culture and based on the era we happen to be living in," Mitchell said.
Spanish words can have different meanings and uses across the 20 countries in which Spanish is the official language or any region where people speak Spanish. What refers to a drinking straw in Colombia is slang for a marijuana joint in Puerto Rico.
The MVA has rejected or banned vanity plates with characters that may appear to identify cars as belonging to government agencies or emergency services. The MVA also imposes logistical restrictions, like how many characters fit on a plate.
The issue before the court rests on whether the characters on vanity license plates are government speech, and on the classification of license plates as a public forum.
Mark Graber, a professor of constitutional law at the University of Maryland Francis King Carey School of Law, said that vanity license plates are "in part the state delivering the message," and that "while the state cannot prevent you from speaking, when the state delivers a message, the state can determine what message the state wants to deliver."
"I was a little bit offended that a progressive state like Maryland would be, in my view, violating First Amendment rights," Mitchell said. "The really important principle for me is we can't have the state censoring speech."
Mitchell, a First Amendment and copyright lawyer in Washington, D.C., represented himself throughout the case, appearing before an administrative law judge, arguing at the Court of Special Appeals in 2014 (
mdcourts.gov/opinions/cosa/2015/0713s14.pdf
) and delivering oral arguments before Maryland's highest court Sept. 7.
The state's highest court is scheduled to confer on Sept. 27, and a decision will follow, on a date chosen at the court's discretion.
The Maryland Motor Vehicle Administration website states that "The MVA reserves the right to decline a requested message because it has already been issued or because it is objectionable." (
www.mva.maryland.gov/vehicles/licenseplates/personalized-license-plates.htm
)
Despite the MVA request that he return the plates more than six years ago, Mitchell continues to use the plates on his car.
"I made it a point to have documentation that there is a case ongoing in case a police officer pulls me over and says I need different tags," Mitchell said.