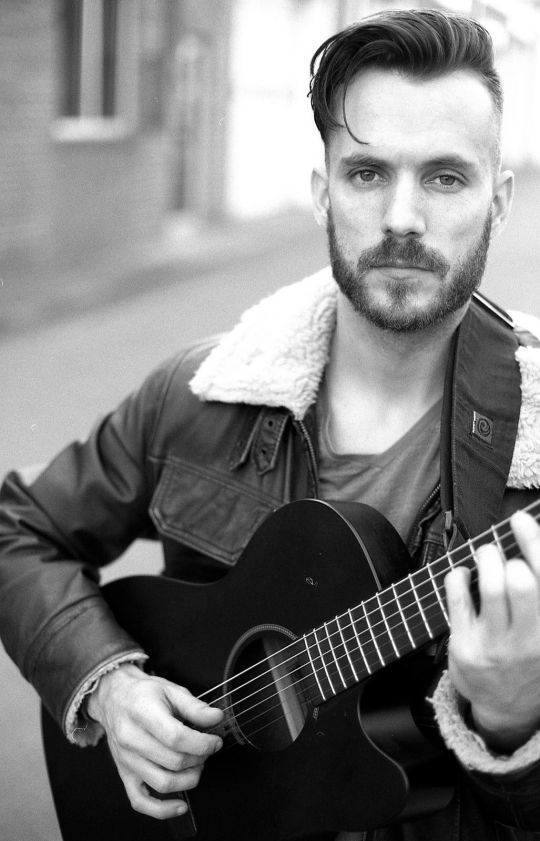 Dylan Galvin.
Dylan Galvin's interest in music can be traced back to the day he was born. His father Mike Galvin, who was a musician himself, named him after the legendary singer-songwriter Bob Dylan.
In 1985, Galvin's father quit playing guitar in a rock band named "The Bleeding Hearts" in Massachusetts. Their band was gaining steam at the time. Extreme, the band that sang "More Than Words" opened for them.
"At the height of their success, my dad shelved his rock-and-roll dream to be my dad," Galvin wrote in his biography on his website. His father later became an urban forester so that he would have steady income to provide for his family.
When he was about three year-old, Galvin's family moved to Southern Maryland from Massachusetts. He grew up in Calvert County. Galvin went to Southern Middle School and graduated from Patuxent High School.
Galvin's parents divorced when he was a teenager. He said he "struggled with depression, anxiety and soon found myself the subject of relentless bullying" during his adolescent years. To escape, he turned to music.
"I remember when I was little, me and my brother, my dad would play music on his guitar. He would make up a song, and he would be singing about us, and we would jump on the bed. It was a good memory that I think triggered some positive association for music," Galvin said.
A few years later, Galvin picked up a guitar, a gift from his grandparents when he was about 15. Since that day, he never put it down. He inherited his father's passion for music as he tries to re-create the excitement he felt when his father played for him.
"The guitar became my form of therapy, my identity and my form of self-expression," Galvin said.
After two years in a community college in Anne Arundel County, he went to Berklee College of Music in Boston, where his father used to perform as a guitarist. He studied song writing and performance and fell in love with lyrics.
"Lyrics Matter" is the phrase that is indented on the small, heart-shaped brass necklaces Galvin makes as merchandises to sell at his shows. Galvin believes in a saying from Alex Medina, a creative director, that "making good art can shift culture."
"Music is not just a means of entertainment for me, it is a way of communicating and delivering a message with meaning," Galvin said.
Nowadays, independent musicians not only have to have the talent and skills to write and perform songs, they also need to know how to develop a distinctive personal brand.
Now working as a solo musician, the 31-year-old works between 70 to 80 hours a week. On average, Galvin spends about half of his working time on marketing and promoting his music.
To achieve his goals, Galvin has to be rather disciplined in making his schedules. This means he can't get up in the morning and start playing guitar right away because he would "only want to play guitar all day."
The first thing he does after waking up is usually scanning a couple of articles online that teach him how to promote his music on social media and reach out to a greater audience. He follows YouTube channels like "Seeds of Music" that teach him the ins-and-outs of the independent music industry. He tracks his social media page views and clicks almost daily.
Galvin believes the Internet is a blessing for independent artists because musicians no longer need to rely on record or label companies to reach a large number of fans. In addition, Galvin believes do-it-yourself musicians can achieve greater artistic freedom because they work for themselves.
"Doing the independent music route, you actually comprise almost nothing because you don't have labels who you have to get approval for," Galvin said. "It's basically you and your fans. There's no one in the middle."
Galvin has plans to move to Los Angles where the music scene is more vibrant. He said he enjoys playing in his hometown where he sometimes meets people in grocery stores and then sees them again at one of his shows.
His ultimate goal is to "connect."
"Our world is in desperate need of meaning, truth, love and art," Galvin wrote in his biography that summarizes his core message. "I want people to able to experience the joy of stories like the ones that intrigued my young mind into the world of music."
For more information about Dylan, visit
dylangalvin.com/
For more local stories from the County Times newspapers, visit ct.somd.com