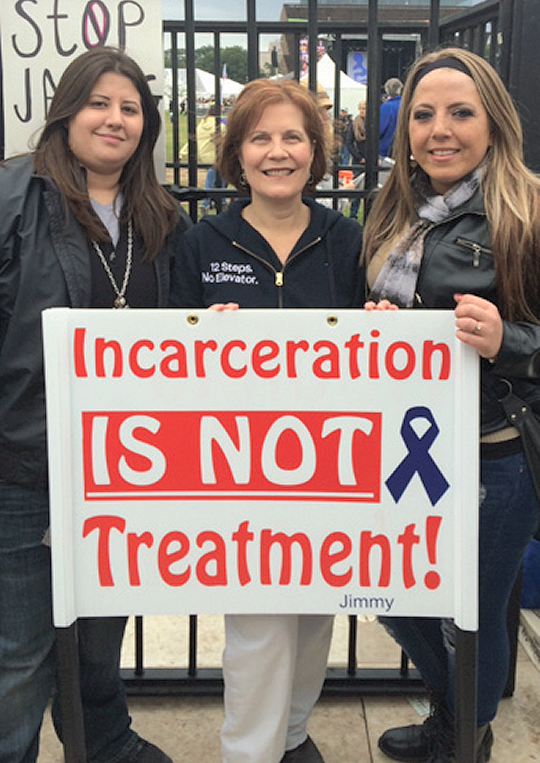 Megan Sarikaya (on left) and Christina Sita (on right) attended the Unite to Face Addiction Rally in Washington D.C. in October 2015. (Photo courtesy of Christina Sita)
HOLLYWOOD, Md.
—Megan Sarikaya sees her six months of incarceration a "blessing."
Going to jail saved her life, Sarikaya said during a ceremony in the courthouse in Prince Frederick two weeks ago. She and four other graduates are the very first to successfully complete Calvert drug court's adult treatment program.
Sarikaya started using drugs since she was about 11. She dropped out of Patuxent High School when she was 16 and spent her 21st birthday in Calvert Detention Center last year. In August of 2014, she was stopped by the police for not wearing her seatbelt, according to charging documents. When the police searched her car, they found cocaine, morphine, clonazepam and paraphernalia.
"Being in jail calmed me down," Sarikaya said. The detention center is also the place where she met her fiancé Christina Sita. Sita was in jail because her father had revoked her bond and had her arrested because he was concerned for her safety.
One time in 2012, Sita said her father came home to find her lying on the floor unconscious from an overdose.
"By the time the paramedics came, my lungs were over 80 percent depleted. I was dying," Sita said. "My father saved my life."
When Sita was 18, she used heroin to replace the prescription drugs she was on to manage her pain from a major back surgery she had five years prior. Sita said she had been through "overdoses, institutions and deaths." Now 26-years-old, she had witnessed overdose deaths and experienced overdoses more times than she could count.
Between the age of 18 to 25, Sita had been either in jail or under treatment. She said she had checked into nearly every rehab in the state and even tried treatment facilities in Florida and Connecticut. She also tried the drug court in Anne Arundel County in 2012. Unlike Sarikaya, she didn't complete the program.
In about two months, the couple would celebrate their two-year anniversary of sobriety. Drug court worked for one of them, but not the other.
The program is probably not going to be 100 percent successful in helping everyone transition into a drug-free life, said Mark Chandlee, presiding judge of Calvert's two year-old drug court.
But helping one person is helping the entire community, he said.
On a personal note, each individual's success in reclaiming a life from drug addiction is immeasurable. Advocates also say drug courts save money by reducing drug crime and keep communities safe.
On a policy-debate level, some critics argue that results from drug courts are not as rosy as advocates claim to be. Because the results of drug courts are closely tied to how the judge and staff members run the programs, the success rates of drug courts across the country vary. However, most studies suggest that drug court participants are significantly less likely to relapse to drug use.
Since the establishment of the first drug court in Miami-Dade County in Florida in 1989, the nation has more than 3,000 drug courts in half of all U.S. counties. What separates the drug court from the usual criminal justice system is its intention, which is to rehabilitate, not to punish.
The drug court model uses a carrot-and stick approach. It sanctions those who fail drug tests or miss meetings with their case managers. The punishment can be as light as writing essays to as serious as being incarcerated for a short period of time. But when participants remain drug-free for the last 180 days of the program, appear on time for their monthly reviews, stay in school or keep a job and complete all requirements of the 18-month program, they are rewarded with not only graduation certificates, but also reconsiderations of their original sentencing.
As the drug epidemic became more visible on everyone's radar in recent years, the drug court is also considered by many part of the effort to fight crime.
"You fix the drug problem; you fix the crime problem," said Molly Owens, coordinator of Calvert's drug court. She said the goal of drug court is to set up a solid drug-free foundation for the participants so that they never come back to the criminal justice arena.
Calvert's drug court is funded by the state's Problem-Solving Courts. The drug court has one presiding judge, one coordinator and two case managers who handle more than 70 cases. The County Board of Commissioners also pitched in to fund one caseworker position when the state wouldn't. As the drug court grows and accepts more participants, the cost of running the program has also gone up.
The drug court received a grant of about $ 200,000 from the state judiciary last year, according to Chandlee.
The program welcomed its first participant in February 2015. Sarikaya was amongst the first group to be accepted into the program. The drug court has a screening process that generally excludes sex offenders, some drug dealers (because dealers do not necessarily have addiction problems) and people with a violent criminal record. Chandlee said the acceptance rate is about 50 percent.
Participants are largely introduced to the program through referrals.
"Referrals can come from anyone," Chandlee said. It could be from a public defender, a lawyer, a judge, a probation officer or a concerned family member.
Calvert's drug court doesn't function alone. The drug court collaborates with state's attorney, public defenders, probation officers, public health professionals, correction officers and police officers from the Sheriff's Office. Drug court also mandates each participant to volunteer 24 hours with Farming 4 Hunger, a non-profit organization founded by Bernie Fowler Jr. in 2012.
Chandlee also meets with the members of the Citizen Advisory Counsel four times a year. The counsel is made up of doctors, business owners and other professionals from the community, who volunteer their time and energy to help participants with their rehabilitation process such as job searching.
But at the end of the day, the decision to stop using drugs is up to each individual.
"There was nothing in the world that can ever change me. Drug court, jail, nothing, but me," Sarikaya said. "I had to help myself. Period."
She believes that "anybody can overcome anything." But the motivation has to come from within.
Sita agreed. She said the caseworkers and the judge in Calvert's drug court are more involved in each participant in comparison to the drug court in bigger counties such as Anne Arundel County. But seeking treatment all over the state and out-of-state made her realize that no rehab or institution was going to save her.
"Every time I tried to stop using, it was to try to please the courts or please my family or try to get my materialistic things back. It was never for the right reasons," Sita said. Until she realized that her life would not get better as a drug addict, she "changed everything" for herself and she has been able to maintain her sobriety for nearly two years—the longest since she first used heroin at the age of 18.
Sita said she sees the value of a drug court, which is to provide a safety net and a structure for people with drug-related offenses to get back on their feet.
For Sarikaya, she was grateful for all the help she received from the drug court and the community. She started working as a recovery specialist for the Calvert County Health Department about two weeks ago. She said she wanted to give back to the community that helped her during her lowest of lows. Her job also helps her remember her struggles.
"You got to remind yourself on a daily basis where you come from, and that makes you not want to go out and do it again and relapse," Sarikaya said.
For more local stories from the County Times newspapers, visit ct.somd.com