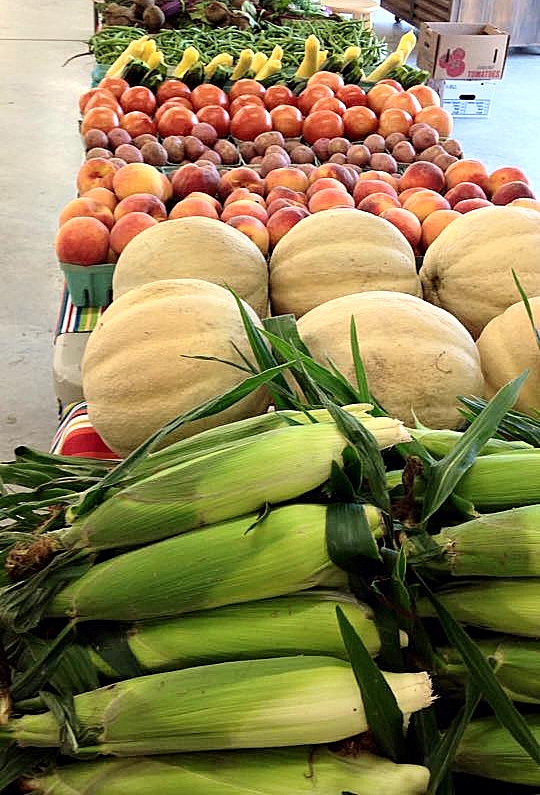 A sampling of the local produce on sale at Homegrown Farmers Market in Lexington Park. (Photo: @homegrownfarmmarket on Facebook)
HOLLYWOOD, Md.
—Five years ago when the Homegrown Farmers Market in Lexington Park first opened its doors not everyone was convinced it would be a success, considering it was starting out in an area of South County where businesses have long struggled to stay open.
But a success it has become, according to the figures of customers and vendors who have made it a haven for buying and selling fresh grown local produce, locally raised meats and even baked goods and crafts.
The celebration of the farmer's market's fifth anniversary Aug. 27 drew in 900 customers in just four hours of operations, and vendors reported one of their best sales days yet.
"I had family there that day," said Dawn Ulmschneider of Porpoise Creek Farm in Compton, which sold fresh produce. "It was packed with customers."
When the market first opened in 2012 the total estimated average attendance was 237 customers a day that has since grown to 612 customers.
The estimated sales on a survey day was $3,672.83 and has now more than doubled to $8,086.92.
Also the amount of customers surveyed from year to year show that more and more of them came out to South County just for the market to the tune of 84 percent of respondents last year.
"We had a record crowd," said Donna Sasscer, the county's Agriculture and Seafood specialist with the Department of Economic Development. "We're surprised every week with the dedicated customers who come in.
"But we're still drawing new customers every week. The market continues to grow."
The market has also grown to include wines from the Leonardtown Winery as well as spirits from a locally owned distillery, Sasscer said making it a hub for expanding and sustaining the diversification of agriculture and tourism.
The farmers market itself represents shift in thinking from the county's long dependence on tobacco growing years ago to other forms of farming; it was funded in part by tax payer dollars and by money from the massive tobacco industry settlement.
"We continue to get a variety of new vendors," Sasscer said. "It's a success not only for the agricultural community but for the community as a whole."
Sasscer said that a loyal core of residents had chosen to support the farmers market.
"There's a huge sense of community there," Sasscer said. "It gives people in South County an opportunity to support the concept of buying local. "They've embraced it as a community asset."
The market's popularity has grown despite its limited hours of operation; it is open just two days a week on Wednesday and Saturday for only a handful of hours.
John K. Parlett, the chair of the county's Agriculture, Seafood and Forestry Advisory Board, which monitors the operations at the farmer's market, said it was one of three in the county that was continuing to thrive.
Their existence helps to make agricultural viable in the county.
"We've got three farmers markets in the county and they're all doing well," Parlett said. "But they don't all have a permanent home like the Homegrown Farmers Market.
"It's a great example of what a farmers market can be."
Without farmers markets, making a living off the land might become more difficult locally, Parlett said, and that meant farms might shrink or even begin to disappear.
"Agricultural activities would be much less in Southern Maryland," Parlett said. "You might see them not be farms anymore."
The Tri-County Council along with the Southern Maryland Agricultural Development Commission is currently working on a way to bring a slaughter facility to a site somewhere in either St. Mary's, Calvert, Charles, Prince George's or Anne Arundel counties, Parlett said, which, as a U.S. Department of Agriculture approved and inspected facility, would make it much easier for local meat producers to bring their products to market.
Those local producers must take their meats hours away to another facility just to be inspected before it can be sold, making the final product more expensive.
The market is located at 21078 Three Notch Rd, Lexington Park, MD 20653 [Map:
goo.gl/maps/XBX66jhNhrH2
]. Regular updates are posted to
www.facebook.com/homegrownfarmmarket/
For more local stories from the County Times newspapers, visit ct.somd.com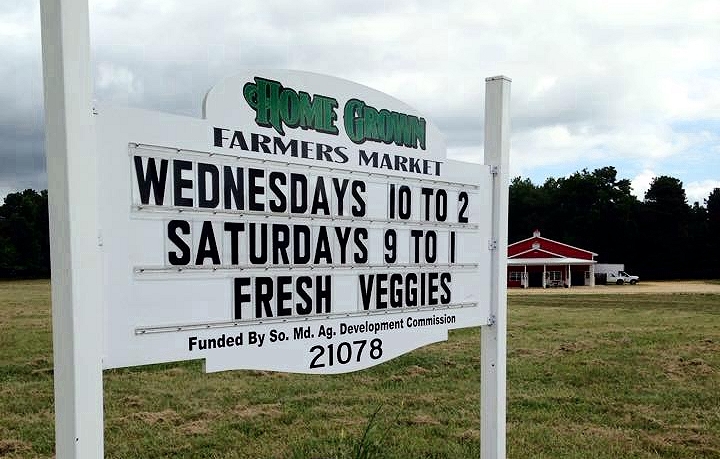 Homegrown Farmers Market in Lexington Park is seen in the background. (Photo: @homegrownfarmmarket on Facebook)