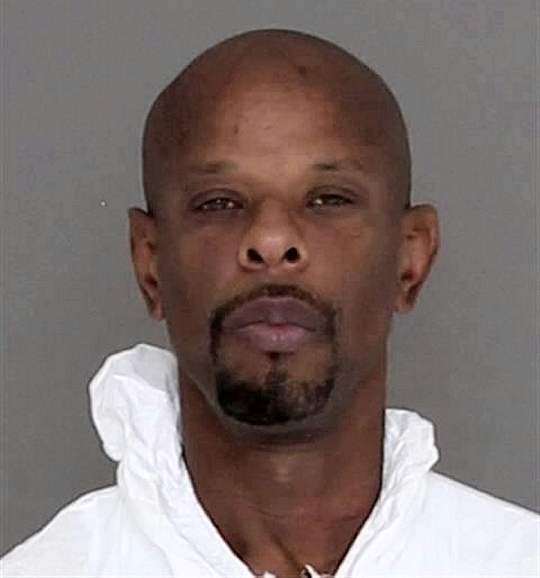 Jonathan Adrian Marshall, 45, of West Virginia. Booking photo via ChasCoSO.
LA PLATA, Md.
(Sept. 7, 2016)—Charles County Sheriff Troy D. Berry said excellent police work led to the arrest of a suspect wanted in connection with two back-to-back robberies and the recovery of evidence linking the suspect to the crimes.
On September 6 at 11:11 p.m., officers responded to a carry out pizza business in the 300 block of Smallwood Drive in Waldorf for the report of an armed robbery that just occurred. Officers made contact with employees who advised a lone suspect, who was armed with a gun, entered the business wearing a black mask, dark shorts, dark shirt, and yellow gloves and demanded money. The suspect struck the cash register several times, but was unable to obtain any money and subsequently fled. Officers canvassed the area and after a few minutes, Officer A. Bringley was flagged down by a citizen who reported a convenience store on St. Ignatius Drive was being robbed. Officer Bringley responded to the store and learned the clerk had just been robbed by a man matching the description of the suspect in the previous robbery.
Patrol officers, a CCSO K9 team, and members of the Maryland State Police Trooper 2 helicopter unit set up a perimeter and conducted an organized, methodical search. After approximately two hours, the suspect was located hiding in a shed to the rear of a house on Bedford Court. The suspect was taken into custody and evidence related to both robberies was recovered. While canvassing the area, Officer J. Sapienza located both cash register drawers which had been stolen and a 9mm handgun believed to be used in the crimes.
The suspect, Jonathan Adrian Marshall, 45, of West Virginia, was charged with armed robbery, first-degree assault, and second-degree assault.