Greta Johnson, 65, of Chaptico and Michelle Dawn Bettencourt, 44, of Mechanicsville. (Booking photos via SMCSO)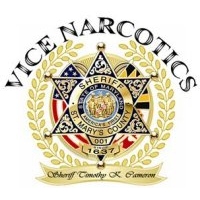 LEONARDTOWN, Md.
(Sept. 1, 2016)—The St. Mary's County Sheriff's Office Vice Narcotics Division today released the following incident and arrest reports. The Division is an investigative team comprised of detectives from the St. Mary's County Sheriff's Office and Federal Drug Agents (HIDTA Group 34). The Division was established on September 1st, 2007.
MARIJUANA FARMING: Detectives received information that
Greta Johnson, 65, of Chaptico
, was growing marijuana outside her home. A search warrant was executed on her home and numerous plants in various stages of cultivation and drying product were recovered from inside and outside the home. The value of the marijuana seized was approximately $9,000. Grow instructions and paraphernalia, along with a handgun and long guns, were recovered from the home. Johnson was charged and detectives are working with the State's Attorney to confirm that Johnson is prohibited to possess firearms from a prior conviction.
PRESCRIPTION FRAUD:
Michelle Dawn Bettencourt, 44, of Mechanicsville
, was indicted and subsequently arrested for numerous counts of prescription fraud. Bettencourt was charged for submitting fraudulent and forged prescriptions on at least three occasions where she obtained Percocet. Additional charges are pending locally and in other jurisdictions for similar crimes.
Millenial Narcotics Operation Utilizes Postal Service
Detectives developed information that
Sean Douglas Mendoza, 21, of Mechanicsville
, was selling narcotics. As the investigation continued, Mendoza was observed by detectives meeting with
Kyle Tanner Harradine, 18, of Mechanicsville
. During that encounter, detectives observed the two merging a large sum of money and utilized the United States Postal Service for shipment.
Detectives contacted their partners in the United States Postal Inspectors Office and briefed them. Postal Inspectors assisted in the investigation by intercepting three separate packages. One package contained 295 grams of high potency Tetrahydrocannabinol wax or THC Wax (street value $8,500) addressed to Harradine. THC Wax is a marijuana plant divertive, which contains extremely high levels of THC which can lead to hallucinations. A second package addressed to Mendoza was intercepted and found to contain approximately 2 pounds of high grade marijuana valued at $6,800. The third package was the package detectives observed Mendoza and Harradine preparing for shipment, which contained more than $3,000.
Search and seizure warrants were conducted on the homes of both suspects. Harradine fled on foot as the Emergency Services Team (EST) made entry into the home. Perimeter Support Team deputies apprehended him after a short foot chase. Harradine was fleeing with a pound of high grade marijuana and more than 110 grams of potent THC Wax. Additionally, 409 ounces of suspected marijuana (Street Value $8,180), 12.8 ounces of suspected THC Wax, suspected tabs of LSD(Lysergic acid diethylamide) and more than $14,000 in cash was seized. Evidence also revealed additional packages were previously received.
The search warrant executed at the home of Mendoza revealed digital scales, packaging materials and two cell phones. Another suspect,
Noel Segovia, 18, of Mechanicsville
, was located within the home and found to be in possession of more than 10 grams of marijuana and 20 Lisdexamfetamine tablets, an amphetamine used to treat ADHD.
Additional charges are pending a review with the State's Attorney.

Sean Douglas Mendoza, 21; Kyle Tanner Harradine, 18; and Noel Segovia, 18, all of Mechanicsville. (Booking photos via SMCSO)