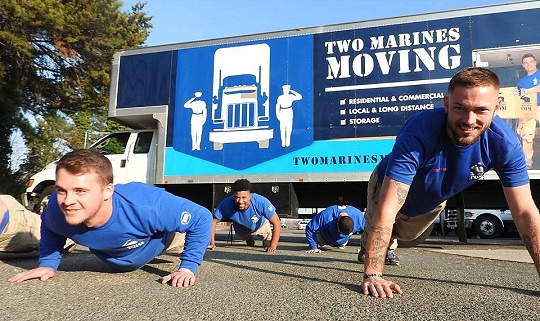 Some of the Two Marines Moving staff perform morning Physical Training (PT) with one of their moving vans in the background. Company founder, Nick Baucom, a U.S. Marine veteran is seen front-left.
Politicians call them heroes and strangers thank them for their service.
But when their enlistment comes to an end, veterans need more than a pat on the back as they return to civilian life. They need jobs.
And increasingly, they seem to be getting them because the unemployment rate among veterans has been on the decline in recent years. In May, the veteran unemployment rate was 3.4 percent, down from 5 percent for the same month in 2015, according to the Bureau of Labor Statistics.
That compares to a 4.7 percent overall unemployment rate.
"I think in the last several years there has been a focus on the importance of hiring veterans and many businesses have taken that to heart," says Nick Baucom, a U.S. Marine veteran who makes hiring veterans a priority for his company, Two Marines Moving.
"But probably the biggest reason that the unemployment rate for veterans has trended downward is that, as a group, veterans bring with them experience and attitudes that make them great employees."
Baucom served in the U.S. Marines from 2002 to 2008, and was in Iraq in 2003.
Baucom's moving company employs more than 100 veterans between its two locations—the Washington, D.C., area and Miami. He's wants to hire more because his company is booked three to four weeks in advance and he could use the extra help.
"But with the unemployment rate for veterans dropping, it's becoming more challenging to hire them," says Baucom, who also is author of "On the Move: A Marine's Guide to Entrepreneurial Success."
"I can't complain too much, though, because I'm glad so many other employers are seeing the benefits of having veterans in their workforce."
Baucom says there are several reasons veterans make top-notch employees, including:
•
Their tenacity.
Veterans know what perseverance is all about, if for no other reason than they survived boot camp, an arduous challenge that puts a person's fortitude to to the test. Marines, for example, must prove they can hike 20 miles carrying a fully loaded pack.
•
Their decisiveness.
People in the military don't always have the luxury of taking all day to analyze a situation before making a decision. Yes, they must gather data and understand it thoroughly—but they understand the need to do it expediently. "A 90 percent solution now is better than a 100 percent solution later," Baucom says. "Both in the Marines and in the business world, I've found that waiting for that 100 percent solution just leads to paralysis."
•
Their initiative.
Anyone in the military learns to follow orders. But they also understand that there are situations when they need to take action in the absence of orders. If something needs to be done, they don't have to wait to be told.
"I know that Marines go through quite an ordeal in their training and in carrying out their missions," Baucom says. "When we ask them to move a piano, it probably doesn't seem all that difficult in comparison."
While customer reviews on both Yelp and Google do not show 100% customer satisfaction, the ratings are none-the-less respectable. The firm earned 4.5 stars out of 5 on Yelp with 238 reviews for its D.C. location and 4.3 stars on Google with 64 customers chiming in. In both cases, customers who liked the company's performance typically went all in with 5 stars. Those not happy mostly banged the gong with a one star rating.
For more information about Two Marines Moving, visit
twomarinesmoving.com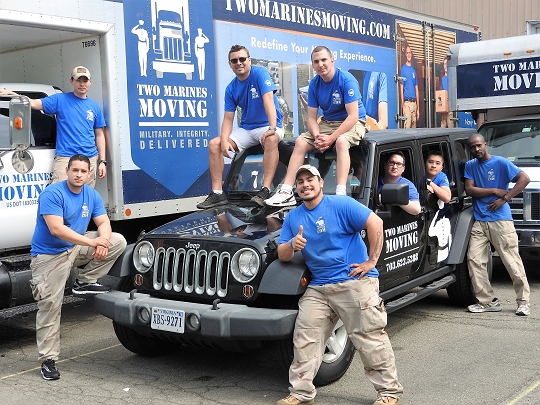 Some of the Two Marines Moving staff pose for a group shot with a few of their vehicles.