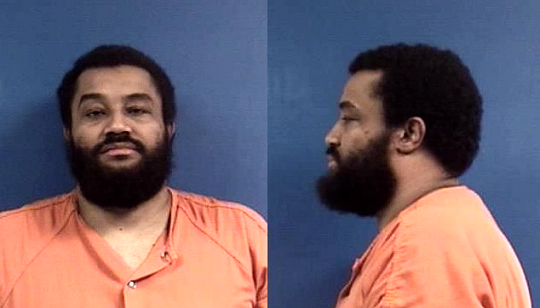 Darrell Lee Adams. Booking photos.
HOLLYWOOD, Md.
—Owings resident Darrell Lee Adams was given 25 years of incarceration after being indicted for stabbing his 58-year-old mother Faye Adams while on probation.
He was sentenced to 25 years with 10 years suspended for the first-degree assault. Circuit Court Judge Mark Chandlee also gave Adams the full 10 years of backup time for violating his probation.
Adams had 10 years of backup time for robbing a BB&T bank in Dunkirk in the March of 2010. He robbed $712 from a bank teller, according to the police. The now 39-year-old was on probation for the robbery and lived with his 77-year-old maternal grandmother Doris Jones on Solomons Island Rd. in Owings.
In the evening of May 17, 2015, the police responded to a call from Adams' family requesting assistance to control him. When the police arrived, Adams were "argumentative and difficult to deal with" while his parents, Faye and Glenwood Adams, his grandmother Jones and his uncle Dean Jones were trying to mediate him, according to the charging document. At the time, Adams seemed to pose "no threat to himself or other family members," and the police left.
About an hour and a half later, Adams' grandmother Jones called 911 and reported that he had stabbed his mother with a knife and was fighting with other family members. The police arrived to find Faye Adams bleeding from her abdomen and arms while Adams' father and uncle were on top of him holding him down, the charging document said. They had taken the three-inch-long folding knife away from Adams, but he kept fighting them.
Police investigator said Faye Adams had five to seven lacerations and had "lost a significant amount of blood." She was transported to Prince George's County Hospital. Adams was handcuffed and relocated outside of the residency, and he appeared "belligerent, talkative, argumentative and unapologetic," the investigator wrote in the charging document.
According to family statements, after the police left, the family continued to try to calm Adams down so he could keep staying with his grandmother. Adams became infuriated when his mother said he needed to keep taking his medication and suggested he check himself into a hospital for treatment. Adams pulled the knife out of his sock or pant pocket and used it to threaten each family member gathered at the dinning room. He flashed and waved the knife "in a menacing manner" and charged at each family member.
The charging document said most of his anger was directed towards his mother, and he kept lunging into her. His father and uncle even threw chairs at him in hopes to prevent him from stabbing his mother. Eventually he grabbed her; they both fell to the floor near the bathroom and he repeatedly stabbed her in the torso until his father and uncle subdued him and got the knife out of his hand. While fighting to get free, he bit his uncle on the arm.
Adams was treated for his hand wounds at the Calvert Memorial Hospital before being transported to Calvert County Detention Center. The police said that Faye Adams' injuries were serious but not life-threatening. When Faye Adams was interviewed by the investigator at the hospital, "she had bandages on her stomach/abdomen, left arm and right breast." She said she believed that "he would have probably killed her" if her husband and brother had not been there when Adams attacked her.
Adams was indicted on several counts of first-degree assault, second-degree assault, reckless endangerment and possessing a dangerous weapon with intent to injure.
For more local news stories from the County Times newspapers, visit ct.somd.com