HUNTINGTOWN, Md.
(Aug. 28, 2016)—President Obama has named Elizabeth Megonigal, chemistry teacher at Huntingtown High School, as a recipient of the prestigious Presidential Award for Excellence in Mathematics and Science Teaching. Megonigal was among 213 honorees who represent all 50 states, the District of Columbia, Puerto Rico, U.S. Territories, and the Department of Defense Education Activity schools. The educators will receive their awards at a ceremony in Washington, D.C., on September 8.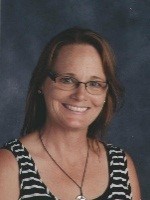 Megonigal has been an educator for fourteen years, twelve of which have been devoted to teaching chemistry at Huntingtown High. According to school officials, her lessons include innovative uses of technology, as well as open-ended questioning and cooperative learning. Through these techniques, she gains insight into her students' understanding of complex concepts and can adjust her teaching accordingly. She values the varied skills that all of her students bring to her classroom, and she fosters enthusiasm by encouraging participation in science events outside of the classroom. Megonigal strives to create a positive learning environment where all students can thrive and become life-long learners.
"Receiving the Presidential Award is the most joyous moment in my teaching career," said Megonigal. "The award is validation that our youth are excited by science when it is taught in a nurturing, challenging environment, laced with hands-on activities and humor. This award challenges me to continue my professional development, to fearlessly accept new challenges, to actively look for leadership opportunities and to grow new collaborations with my colleagues."
The Presidential Award for Excellence in Mathematics and Science Teaching is awarded to outstanding K-12 science and mathematics teachers from across the country. The winners are selected by a panel of distinguished scientists, mathematicians and educators following an initial selection process at the state level.
Winners of this Presidential honor receive a $10,000 award from the National Science Foundation to be used at their discretion. They are invited to Washington, D.C., for an awards ceremony, educational and celebratory events, and also visits with members of the President's administration.