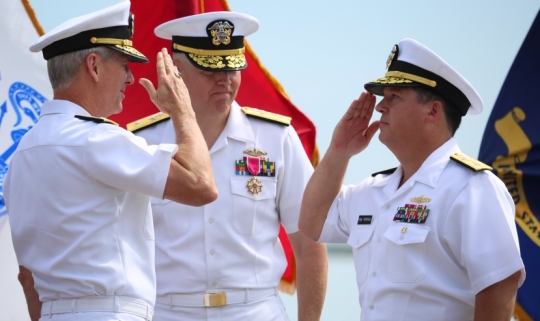 Rear Adm. Tom Druggan, right, commander, Naval Surface Warfare Center, salutes Vice Adm. Thomas Moore, commander, Naval Sea Systems Command, during a change of command ceremony. Druggan relieved Rear Adm. Lorin Selby, center, as NSWC commander at the first change of command ceremony held on the NSWC Dahlgren Division Potomac River Test Range gunline. NSWC comprises eight divisions that operate the Navy's full spectrum research, development, test and evaluation, engineering, and fleet support centers for offensive and defensive systems associated with surface warfare and related areas of joint, homeland and national defense systems from the sea. (U.S. Navy photo by Ryan DeShazo/Released)
DAHLGREN, Va.
(Aug. 26, 2016)—Rear Adm. Tom Druggan relieved Rear Adm. Lorin Selby as commander, Naval Surface Warfare Center (NSWC) during a change of command ceremony, Aug. 25.
Druggan, a surface warfare officer and a native of Lexington, Ky., attended the U.S. Naval Academy, graduating with a Bachelor of Science degree in 1989. He also holds a Master of Science in national resource management from the National Defense University's Eisenhower School (formerly Industrial College of the Armed Forces) and a Master of Science degree in operations research from the Naval Postgraduate School.
"It is an honor and a personal privilege to serve as the 12th commander, Naval Surface Warfare Center," said Druggan. "The important work at NSWC is more critical and more important now than ever to meet the advanced threats and challenges emerging today."
At sea, Druggan served as aboard a variety of surface ships and commanded the AEGIS Ballistic Missile Defense destroyer, USS O'Kane (DDG 77). Ashore, he served as major program manager for AEGIS Combat Systems in the Program Executive Office for Integrated Warfare Systems. He also served as major program manager for In-Service AEGIS Fleet Readiness and previously as principal assistant program manager for In-Service Aircraft Carrier Combat System Integration, directly supporting Program Executive Office for Aircraft Carriers. Druggan's Pentagon tours include special assistant to the chief of naval operations, special assistant to the vice chief of naval operations, the 2001 Navy Quadrennial Defense Review staff, and as a founding member of the Navy operations group, Deep Blue.
Vice Adm. Thomas Moore, the 44th commander of the Naval Sea Systems Command (NAVSEA), was the guest speaker and spoke about Selby's contributions.
"Lorin, you have encouraged and inspired all hands—both military and civilian to excel and to dedicate themselves to do incredible things," said Moore. "We've got the most advanced ships, platforms and weapons systems in the world. NSWC cohesively and seamlessly operates a full spectrum of research, development, testing, evaluation, engineering and fleet support so that our great Navy can fulfill its mission."
Selby has served as commander of NSWC since October 2014. He assumed additional duties as the chief engineer and deputy commander for Ship Design, Integration and Naval Engineering in June 2016.
"The men and women of the Warfare Centers have already written more than a century of history in Naval warfare with names like Commodore Crane, Ensign Dashiell, Rear Adm. Dahlgren, Rear Adm. Taylor and Rear Adm. Melville," said Selby. "Looking toward the future, our men and women continue to make Naval history in so many facets that are absolutely critical to American military strength—weapons, propulsion, ship design, energetics. Innovation and high velocity learning has been in our DNA for decades!"
The NAVSEA Warfare Centers are comprised of NSWC and the Naval Undersea Warfare Center (NUWC) and represent approximately 30 percent of the Navy's engineering and scientific expertise. NSWC is comprised of eight echelon-four Divisions: Carderock, Corona, Crane, Dahlgren, Indian Head Explosive Ordnance Disposal Technology, Panama City, Philadelphia, and Port Hueneme, as well as one echelon-five command, Combat Direction Systems Activity (part of Dahlgren). NUWC is comprised of two echelon-four Divisions, Newport and Keyport, as well as one echelon-five command, Naval Sea Logistics Center (part of Keyport). With more than 100 years of history, the NAVSEA Warfare Centers provide "full spectrum" technical advice and solutions to our partners in support of Naval platforms and systems.
For more information about the NAVSEA Warfare Centers, visit:
www.navsea.navy.mil/Home/Warfare-Centers/