Shannon Ashley Cronin, age 28, of Churchton, Md. (booking photo via SMCSO)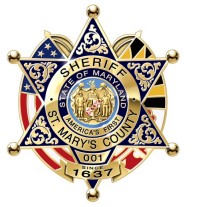 LEONARDTOWN, Md.
(Aug. 24, 2016)—The St. Mary's County Sheriff's Office released the following incident and arrest reports.
POSSESSION: On August 22, Deputy M. Beyer responded to a call for a disturbance in progress at the Super 8 Motel in California. A witness reported observing a male suspect throwing a female suspect to the ground. The female's purse was located in a hotel where she was staying. In her purse, deputies recovered suspected cocaine, paraphernalia, and Suboxone. Units later located the female suspect identified as, Shannon Ashley Cronin, age 28, of Churchton. Cronin was arrested and transported to the St. Mary's County Detention Center where she was charged with Three Counts of CDS Possession: Not Marijuana, CDS Possession: Paraphernalia, and Prostitution General. CASE# 43439-16
ROBBERY AND SEXUAL ASSAULT: On August 23, at approximately 9:23 PM, deputies responded to the area of Nicolet Park in Lexington Park for the report of a robbery and sexual assault. A male and female victim were located by deputies and transported to MedStar St. Mary's Hospital for the treatment of minor physical injuries. Detectives from the Criminal Investigations Division (CID) responded and continued the investigation.
Detectives learned from the victims an unknown male suspect approached them while they were in the park after closing time. The suspect physically and sexually assaulted the victims before robbing them of personal property and fleeing the scene on foot. The suspect is described as an African-American adult male, approximately 5'9 to 5'11 with short hair and a muscular build. He was wearing a white shirt and dark pants.
Detectives are asking anyone with information about this crime to contact Detective Cory Ellis at 301-475-4200, ext. *8125) or via email cory.ellis@stmarysmd.com. Callers may also call Crime Solvers at 301-475-3333 (callers can remain anonymous, or text a tip to "TIP239" plus your message to "CRIMES" (274637).
Incident Briefs 8/23
SUSPICIOUS INCIDENT: Deputy T. Siciliano responded to the area of Chancellors Run Road and Rutherford Boulevard in Great Mills, for the report of an unknown object striking and shattering the passenger side window of a moving vehicle. CASE# 43346-16
For the current list of crime solvers cases in southern Maryland, see so.md/mostwanted
Disclaimer: In the U.S.A., all persons accused of a crime by the State are presumed to be innocent until proven guilty in a court of law. See: so.md/presumed-innocence. Additionally, all of the information provided above is solely from the perspective of the respective law enforcement agency and does not provide any direct input from the accused or persons otherwise mentioned. You can find additional information about the case by searching the Maryland Judiciary Case Search Database using the accused's name and date of birth. The database is online at so.md/mdcasesearch . Persons named who have been found innocent or not guilty of all charges in the respective case, and/or have had the case ordered expunged by the court can have their name, age, and city redacted by following the process defined at so.md/expungeme.