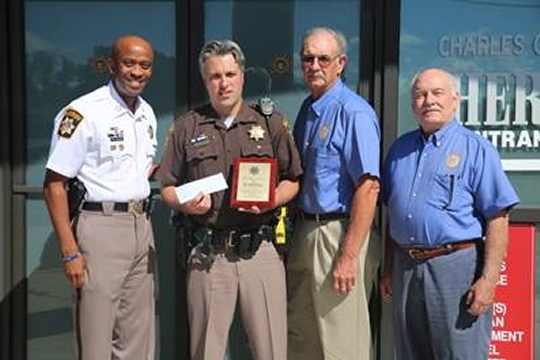 From left to right: Sheriff Troy Berry, Pfc. Vernon Warker, First Vice Commander G. Gale Willett, and Adjutant Gary Shupe.
CCSO Pfc. Vernon Warker Receives Police Officer of the Year Award from Sons of the American Legion Squadron 82
On Wednesday, August 17, the Sons of the American Legion Squadron 82 presented its Police Officer of the Year award to Police Officer First Class Vernon Warker.
Pfc. Warker was selected as the recipient of this honor particularly for the courage he displayed during an incident in May of 2015. Pfc. Warker was the first on the scene of a house fire in Waldorf and learned that there was still one person trapped inside the house. Without hesitation or any protective gear, Pfc. Warker pushed open the locked front door, went inside the smoke-filled home, and dragged the man out to safety, saving his life.
Adjutant Gary Shupe and First Vice Commander G. Gale Willett presented the award plaque. "As a first responder, you are expected to be many things depending on the situation that faces you," said Adjutant Shupe. "What Pfc. Warker did that day went beyond expectations and was something police officers do not typically train for. His instincts kicked in, and the man would most likely have died that day if not for Pfc. Warker's heroic actions."
"We are very proud of the brave, quick actions Pfc. Warker took that day. He was everything we could hope to be if faced with the same situation: calm, selfless, and courageous," said Sheriff Troy Berry. "We thank the Sons of the American Legion Squadron 82 for recognizing him with this honor."
Officers Awarded Policeman of the Year from Waldorf Moose Family Center #1709 during Annual Valor Awards Ceremony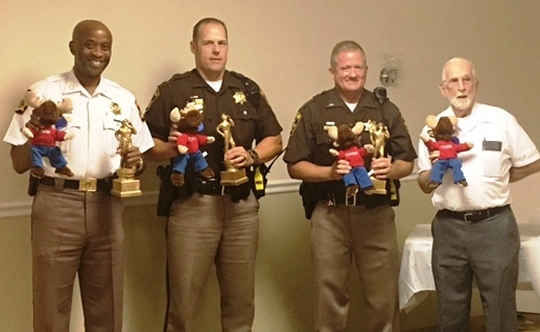 From left to right: Sheriff Troy Berry, Cpl. Gottschall, Officer Hooper, and Mr. Dean.
Charles County Sheriff Troy D. Berry is proud to announce Corporals Joseph Piazza and Robert Gottschall, along with Officer Samuel Hooper, were named Policemen of the Year during the Waldorf Moose Family Center #1709 Annual Law Enforcement Awards Ceremony. Mr. Larry Dean, Prelate and Valor Awards Chairman, served as emcee and presented the officers with the awards at a ceremony held on August 5 in White Plains. "We appreciate our officers and the work they do to protect us day in and day out," said Dean.
The awards stemmed from an event that occurred on February 23, 2015, when Officers Piazza, Gottschall and Hooper responded to an address in Waldorf for the report of an assault in which a man severely choked his girlfriend and then threatened to kill her with a gun. The woman escaped from the house and called police. When officers arrived, they were confronted by the suspect who was standing on the front porch armed with a long gun. The officers ordered the suspect to drop the gun, but he refused. Instead, the suspect lifted the gun and pointed the weapon in the direction of Officer Hooper who discharged his service rifle, striking the suspect and causing him to fall to the ground. Corporals Piazza and Gottschall immediately approached the suspect and secured the long gun. Then, they began to render medical aid to the suspect by applying direct pressure to the gunshot wound. Cpl. Gottschall assessed the suspect's injuries and recognized the need for a tourniquet. He ran to his cruiser, obtained a first aid kit, and applied the tourniquet to the suspect's leg to stop the bleeding. The suspect was transported to a hospital, where it was later determined the medical attention given to the suspect by the officers was critical in saving the suspect's life.
Cpl. Gottschall and Officer Hooper were on hand to receive the awards. Sheriff Berry accepted on behalf of Cpl. Piazza. Also during the ceremony, Captain William Caswell of the Waldorf Volunteer Fire/EMS was named EMS of the Year. "It's always nice when local civic organizations take time to recognize the outstanding work of emergency workers. We thank the Waldorf Moose Family Center for honoring our police officers with such prestigious awards," said Sheriff Berry.
At the 2015 Awards Banquet hosted by the Charles County Sheriff's Office last year, Corporals Piazza and Gottschall were honored with a Life-Saving Award for their heroic actions, and Officer Hooper was awarded a Bronze Medal of Valor.
CCSO Invites Charles County Citizens to Participate in Citizens Police Academy
The Charles County Sheriff's Office is now accepting applications for the inaugural class of its Citizens Police Academy (CPA), set to kick off in September. This 10-week program will begin on September 28, 2016, and will be held on Wednesday evenings from 6 p.m. to 9 p.m. through December 7, 2016, with the exception of Wednesday, November 23. The classes will be held in the first-floor classroom of the CCSO District 3 Station located at 3670 Leonardtown Road in Waldorf.
"The Citizens Police Academy is an invaluable addition to the programs offered by the Sheriff's Office. It will serve to strengthen the police-community relations in our county by offering citizens an understanding of what our job is like, while also opening up communication so that we may learn about citizens' views on our role in public safety," said Sheriff Troy Berry. "We are fortunate to have very positive relationships with the people in our community, and the Citizens Police Academy will help to build upon and reinforce that."
Participants will learn about a wide range of topics including:
• Patrol Procedures
• Narcotics Investigations
• Forensic Evidence
• Criminal Law
• Juvenile Issues
• Use of Force
• Criminal Investigations
• Search and Seizure
Participants will also get a behind-the-scenes look at the CCSO Headquarters, Charles County Detention Center, Southern Maryland Criminal Justice Academy, and Crime Lab. Hands-on experiences will include a Firearms Training Simulator (FATS) and crime scene processing. Participants will have the opportunity to ride with a police officer and to experience policing from an officer's perspective. Participation in the Ride-along program is not required but is strongly encouraged.
The Citizens Police Academy is a valuable opportunity for anyone who is interested in learning more about the realities of policing. Individuals who wish to apply will be subject to a background check. This program is free of charge. There are a limited number of seats available, so anyone interested in participating in the inaugural CPA should submit their application as soon as possible.
Additional information and applications for the Charles County Sheriff's Office Citizens Police Academy can be found on our website at
www.ccso.us/cpa
. Applications are due no later than September 7, 2016, and should be mailed to:
Charles County Sheriff's Office
6915 Crain Highway
PO Box 189
La Plata, MD 20646
Attn: Human Resources
Charles County Commissioners Meeting Agendas for Aug. 30 and 31
The County Commissioners will not be holding public session. The Commissioners will be representing the county at other meetings and will conduct individual appointments as scheduled.
Shred Event Featuring Rain Barrel and Compost Workshops
The Department of Public Works is hosting an environmental outreach event on Saturday, Oct. 1 from 10 a.m. to 1 p.m. in the Charles County Government Building parking lot (200 Baltimore Street, La Plata). Backyard composting and rain barrel workshops, as well as free document shredding are available. Advance registration for workshops is required.
Charles County Government and the University of Maryland Extension staff are offering one hour workshops for rain barrels and composting. The first rain barrel and compost bin workshops begin at 9:30 a.m.
Shred Event
• Free, secure, on-site shredding services available from 10 a.m. to 1 p.m.
• Bring up to five boxes (per vehicle) of personal documents for shredding and recycling.
• Event is for Charles County residents only.
• For more information, call the Department of Public Works' Environmental Resources Division, 301-932-3599 or 301-870-2778.
Rain Barrel Workshop
• Take home a rain barrel and learn proper in-home installation techniques, practical uses for rain barrels, and how to reduce the impact of runoff on local waterways.
• Become eligible for a stormwater remediation fee credit.
• Advance registration is required. Register at www.ter.ps/ccrainbarrel, or for more information, call Erica Hahn at 301-396-5237 or Jackie Takacs at 240-393-6508.
• Registration deadline is Tuesday, Sept. 20.
Composting Workshop
• Construct a compost bin and learn how to create quality compost in your backyard.
• Registration is required. Register at
www.compostworkshop.eventbrite.com
.
• For more information, call Department of Public Works' Environmental Resources Division, at 301-932-3569 or Luke Gustafson at 301-934-5403.
• Registration deadline is Tuesday, Sept. 20.
For registration forms and additional information, visit
www.CharlesCountyMD.gov/Outreach
. Citizens with special needs may contact the Maryland Relay Service at 711, or Relay Service TDD: 800-735-2258.