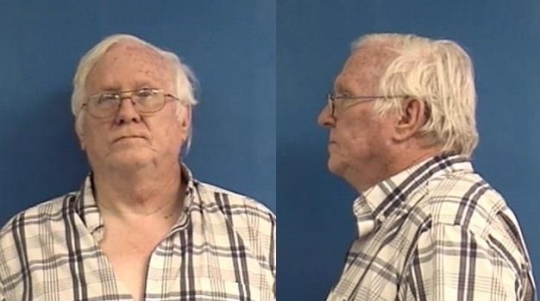 Ronald Leroy Vaughn of Prince Frederick, Md. (Booking photos via CalCoSO)
"Tennison" Boat Damage and Theft
On July 30, at 12:00pm, Deputy R. Shrawder responded to Solomons Island Road in Solomons for the report of damage and theft from the "William B. Tennison" touring boat. The complainant reported that between the hours of 3:30pm, on July 29, and 11:30am, on July 30, someone damaged several items: RPM meter, floor mop, padded stool and stole numerous items: an American Flag, sheath knife, flashlight, emergency air horn and a small LED flashlight. The Solomons area has seen an increase in foot traffic as of late; it is believed this increase could be stemming from a "Pokemon Go"—"Pokestop" under the Solomons lighthouse, which is near a marina.
Child Porn Arrest
On April 3, 2015, Detective Mike Mudd of the Calvert County Sheriff's Office received a cyber tip from the National Center for Missing and Exploited Children regarding possible child pornography. Based on Detective Mudd's investigation, Ronald Leroy Vaughn of Prince Frederick was developed as a suspect.
On July 29, a search and seizure warrant was executed at Vaughn's residence on West Dares Beach Road in Prince Frederick. Several items of evidence were recovered relating to child pornography.
Vaughn was ultimately arrested and charged with possession of child pornography and distribution of child pornography. He is currently being held at the Calvert County Detention Center on a $200,000 bond.
Automated speed enforcement program implemented
The Calvert County Sheriff's Office has announced the implementation of the County's automated speed enforcement program. The County is now one of many jurisdictions to use automated speed enforcement to reduce traffic crashes, pedestrian accidents, and save lives. The program will provide automated enforcement in school zones with a posted speed limit of at least 20 miles per hour. Speed cameras provide police with one more tool to protect pedestrians and other motorists by targeting aggressive driving behaviors.
Calvert County entered into an agreement with the Brekford Corporation to provide and maintain the speed cameras. The speed cameras will be portable and placed in designated school zones throughout the county. The first camera locations will be Mill Creek Middle School, Northern High School, and Mt. Harmony Elementary. These locations will change during the year. However, advance notice will be given prior to moving a camera.
Violators traveling 12 miles over the posted speed limit will activate the speed camera which will result in a violation notice being issued via the US Mail. All violators may pay the fine or request a court date to contest violation notices. Warnings have been processed and issued for the past 30 days. Starting Monday August 22nd citations will be issued instead of warnings. The fine for violating the posted speed limit is $40.00 for each violation. Photo violations do not result in points and cannot be used to increase a person's insurance rates. Operation of school zone cameras is restricted to Monday through Friday, from 6AM to 8PM.