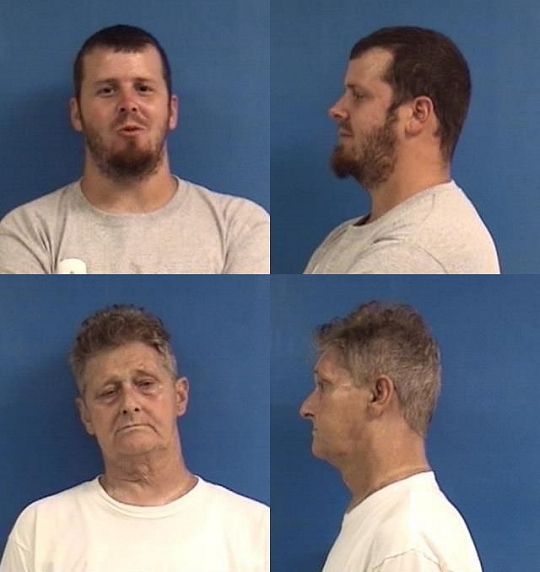 Christopher Milstead, 29, and Terry Francis Milstead, 65, both of Huntingtown. They are father and son. (Booking photos via CalCoSO)
PRINCE FREDERICK, Md.
(Aug. 15, 2016)—A traffic stop in Calvert Co. Saturday led to a physical confrontation between the arresting deputy, the driver, a 65-year-old man and a 28-year-old woman. Police say the elder man and woman attacked the deputy as he was arresting the driver. The elder man eventually ran into the house and made threats to shoot deputies. A barricade situation ensued, which ended peacefully in less than an hour. All 3 suspects were placed under arrest. The driver and the elder are father and son. The relationship to the woman is not currently known.
The Calvert Co. Sheriff's office provided the following detailed narrative of the situation:
"On August 13, 2016 at approximately 6:36 p.m., Calvert County Sheriff's Office Deputy Rediker observed a silver Subaru traveling at a high rate of speed on Hunting Creek Rd. Deputy Rediker turned around and attempted to catch up to the vehicle. Deputy Rediker observed the vehicle turning on to Lowery Rd from Bowie Shop Road in what appeared to be an attempt to elude him. Dep. Rediker activated his emergency equipment and the vehicle failed to stop for the marked CCSO vehicle. A slow speed vehicle pursuit continued (approx. 40 MPH) until the vehicle pulled into the driveway of 2175 Hunting Creek Rd. Dep Rediker contacted the driver of the vehicle and identified him as Christopher Milstead, a 29 year old white male of Huntingown. Milstead was placed under arrest by Dep. Rediker.
"During the course of these events, a female and an elderly male approached Dep. Rediker and the subject he had in custody. The elderly male and the female became very disorderly, making threats towards Dep. Rediker. A struggle ensued with the elderly male who was identified as Terry Francis Milstead, a 65 year old white male also of Huntingtown. At some point during the struggle a female, 28 year old Tracy Romine, also intervened. Dep. Rediker was distracted by the driver trying to get up when the elderly Milstead subject fled back into the house while making threats to shoot deputies. A barricade was declared.
"Numerous resources were deployed to the scene of the barricade. Arriving units quickly established a perimeter and the scene was secured. Sgt Bortchevsky, a CCSO negotiator, arrived a short time later and began negotiations with Terry Milstead. At approximately 7:21 p.m., Milstead exited the residence and was taken into custody without incident. Numerous firearms were located in the residence and were placed in property held for safe-keeping. Terry Milstead was transported to CMH to be evaluated for a bump on his head. No deputies were injured and no vehicles were damaged during the pursuit.
"Christopher Milstead was charged with Disorderly Conduct, Obstruction, Fail to Obey and Traffic Charges. Terry Milstead was charged with hindering, disorderly, 2nd degree assault and assault on a police officer. Tracy Romine was charged with Disorderly Conduct, Obstruction and Failing to Obey. All were transported to the detention center to await a hearing before a District Court Commissioner."