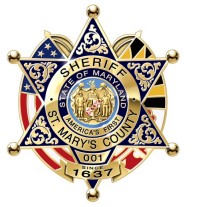 LEONARDTOWN, Md.
(Aug. 10, 2016)—The St. Mary's County Sheriff's Office released the following incident reports.
DETECTIVES INVESTIGATING ARMED ROBBERY: On August 7, at approximately 12:13 a.m., deputies responded to the 46000 block of Rosewood Drive in the Spring Valley neighborhood of Lexington Park for the report of an armed robbery. A pizza delivery driver was approached by two males and one produced a handgun. The suspects fled on foot after a brief altercation with the victim. Detectives from the Criminal Investigations Division responded to the scene and continued the investigation. Detectives are asking anyone with information about this crime to contact Detective Cory Ellis at 301-475-4200, ext. *8125 or via email cory.ellis@stmarysmd.com. Callers may also call Crime Solvers at 301-475-3333 (callers can remain anonymous, or text a tip to "TIP239" plus your message to "CRIMES" (274637).
Incident Briefs 8/9
BURGLARY: Unknown suspect(s) attempted to make entry into a residence in the 29000 block of Autumnwood Drive in Mechanicsville. Corporal E. Johnson is investigating the case.
BURGLARY: Unknown suspect(s) forced entry into a residence in the 25000 block of Budds Creek Road in Mechanicsville and stole property. Deputy J. Bare is investigating the case. CASE# 40799-16
SUSPICIOUS INCIDENT: Deputies responded to the 21000 block of Williams Drive in Lexington Park for a reported suspicious incident where an unknown suspect was observed exiting the wood line in the area. Deputy D. Holdsworth investigated the case. CASE# 40800-16
Incident Briefs 8/10
PROPERTY DESTRUCTION: Unknown suspect(s) damaged mailboxes on Bayside Road in the area of Sweetpea Lane and Bluegrass Lane in Leonardtown. Deputy T. Payne is investigating the case. CASE# 40874-16, 40875-16, 40899-16, 40900-16.
BURGLARY TO MOTOR VEHICLE: Unknown suspect(s) entered a motor vehicle and stole property in the 45000 block of Springsteen Court in California. Deputy M. McClure is investigating the case. CASE# 40918-16