MedStar Health's newest healthcare facility opens in Brandywine
MedStar Health opened its newest healthcare facility July 19 in Brandywine, Md.
The community-based healthcare center, at 13950 Brandywine Road, will serve Prince George's and Charles counties. The state-of-the-art, 60,000-square-foot facility brings medical specialists from MedStar Georgetown University Hospital, MedStar Washington Hospital Center and MedStar National Rehabilitation Network to one convenient location, along with primary care, radiology and laboratory services. MedStar Health at Brandywine also features a meeting room that can be used by community groups and organizations.
The Brandywine location offers high-quality patient care in a number of specialties, including cardiology, orthopaedics, otolaryngology (ear, nose and throat), physiatry, primary care, rehabilitation, and rheumatology. Laboratory and radiology services are offered on site, along with free parking and Wi-Fi.
Brandywine is the fifth ambulatory care center opened by MedStar in the past four years and the second in Prince George's County.
"It's all part of the continued investment by MedStar into this area," said Bob Gilbert, president of MedStar Health Ambulatory Services.
MedStar hosted a grand opening celebration for the facility on July 14. Maryland Senate President Thomas V. "Mike" Miller spoke during the event, along with Gilbert, Eric R. Wagner, MedStar's executive vice president of Insurance and Diversified Operations, and Dennis Carlini, MD, a MedStar orthopaedist.
The facility soon will include a same-day surgery center and an infusion center.
Christine Wray Earns her Seventh Paul Harris Fellow Pin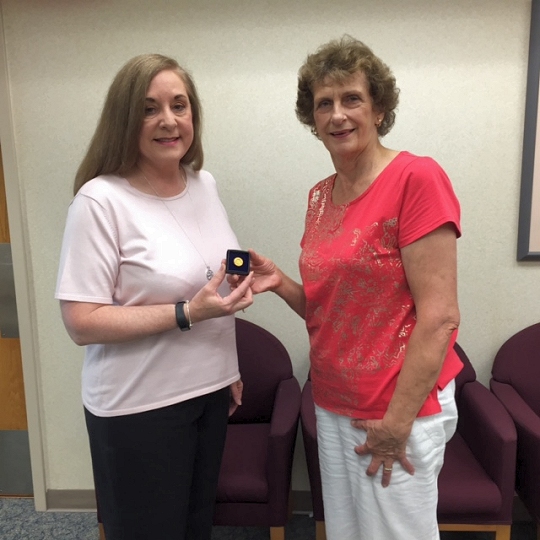 Leonardtown Rotary President Barbara Thompson (right) presents Ms. Wray with her Paul Harris +7 pin.
Christine Wray, president of MedStar Southern Maryland Hospital Center and MedStar St. Mary's Hospital and senior vice president for MedStar Health, has become a Paul Harris Fellow for the seventh time. The Paul Harris Fellow recognition honors individuals who have made generous contributions to the Rotary Foundation of Rotary International or who have performed exceptional services for a Rotary club. One need not be a Rotarian to be honored. Christine's services to Leonardtown Rotary, in which she has been Rotarian of the Year, and her generosity are an inspiration. She has helped in the near eradication of Polio worldwide and in promoting health and literacy in St Mary's County and Maryland. We thank her for her life-changing gifts to our community and the world.
Righttime Medical Care Celebrates Opening of Waldorf Location
Righttime Medical Care has opened a new urgent care center in Waldorf at 3350 Crain Highway, in the Shoppers World Shopping Center.
"Righttime's clinicians and staff focus on providing the highest quality medical care, from early in the morning until midnight, for the communities we serve," said Righttime Chief Executive Officer Robert G. Graw, Jr., M.D. "We're thrilled to bring our services to Waldorf and Charles County."
The location in Waldorf is Righttime's 14th location in Maryland, and the first in Charles County. The 5,600 square foot Care Center will offer urgent care for non-life-threatening illnesses and injuries to patients of all ages, including newborns and seniors, 365 days a year. The new location welcomes walk-in patients and also offers convenient same-day appointments online at myRighttime.com and through Righttime's 24-hour call center at 888-808-6483. Righttime provides on-site digital x-rays, laboratory testing, and works with patients' primary care providers and specialists through secure electronic medical records.
Righttime also offers the diagnosis, evaluation and treatment of mild Traumatic Brain Injuries (mTBI) through its program, HeadFirst Sports Injury and Concussion Care. This includes post-injury medical evaluations for patients of all ages, including steps for a safe return to play, work or school, as well as neurocognitive baseline testing for any individual or group. The HeadFirst clinical team also offers support to trainers and coaches with its community concussion awareness program. HeadFirst will have a testing center and certified concussion specialists at the Righttime Waldorf location.
"We are delighted and ready to care for residents of all ages here in Waldorf," said Care Center Manager Fatimah Ahmad. "Our staff is deeply embedded in the community and we look forward to supporting Charles County residents in every way we can."
Brandywine AAA Car Care, Insurance and Travel Center Relocates
The Brandywine Car Care Insurance Travel Center recently relocated to 16301 Crain Highway, next to Wawa at the intersection of McKendree Road and Crain Highway. The new location replaces the previous Brandywine location at 15906C Crain Highway SE, Brandywine, MD 20613.
The business offers car care services to members and non-members, although AAA members enjoy a lower price with a discount on repair labor. The store's hours are Monday–Friday from 7 a.m. to 7 p.m., Saturday from 8 a.m. to 5 p.m. and Sunday from 10 a.m. to 4 p.m. Phone: (301) 909-9519.
New and Expanded Businesses in Calvert Co.
Afterglow Skincare & Massage
810 Solomons Island Road, Prince Frederick
Che Hair & Art Gallery
20 Solomons Island Road, Prince Frederick
Dollar Tree, Inc.
545 Solomons Island Road, Prince Frederick
Firehouse Subs
641 Solomons Island Road, Unit 18, Prince Frederick
Lloyds of Pennsylvania, Inc
65 Duke St., Suite 108, Prince Frederick
Atlas Carpet Center
2070 Solomons Island Road, Huntingtown
Send news of your business milestone events to news@somd.us