CSM adds Chapter of Kappa Delta Pi for Education Majors
The College of Southern Maryland has joined the 40,000-member International Honor Society in Education, Kappa Delta Pi, and announces the induction of 19 people into its membership. CSM is the first community college in Maryland to be awarded a chapter.
The society inducts only those individuals who have exhibited the ideals of scholarship, integrity in service and commitment to excellence in teaching and its allied professions. Selection as a member of Kappa Delta Pi is based on high academic achievement, a commitment to education as a career and a professional attitude that assures steady growth in the profession.
CSM members of the society include Danielle Amster of Prince Frederick, Adam Brandao of Accokeek, Jenny Brewer of Huntingtown, Sandra Briscoe of Mechanicsville, Sara Browne of Lexington Park, J'Trenee Bryant of Waldorf, Joelle Bush of Waldorf who serves as vice president/foundation representative, Rebecca Butner of St. Leonard, Sidi Chleuh of Great Mills, Danielle Darden of Waldorf, Maria Estevez of La Plata who serves as president/treasurer, Lauren Helms of Prince Frederick, Lisa Leyton of Lusby, Casey Miller of Mechanicsville, Raven Smoot of Marbury, Krista Steele of Waldorf who serves as secretary/historian, Morgan Tickle of Mechanicsville and Lesley Windholz of Waldorf who serves as communications/marketing manager for the chapter.
"Membership in Kappa Delta Pi provides lifelong opportunities for support, service and professional growth for students through their bachelor's degree and on into their teaching careers," said Chapter Counselor, and new inductee, Professor Elizabeth B. Settle, teacher education program coordinator at CSM.
For information on education programs at CSM, visit www.csmd.edu.
Ward Virts Concert Series, Connections Literary Series Supported by Arts Council of Calvert County
The Arts Council of Calvert County has awarded a grant of $2,000 in support of the College of Southern Maryland's Ward Virts Concert Series and a grant of $2,000 in support of CSM's Connections Literary Series.
"These grants are so important for us to be able to provide quality arts programming to Southern Maryland through events at our Prince Frederick Campus," said CSM Vice President and Dean of the Prince Frederick Campus Dr. Rich Fleming. "The Arts Council is a great friend to the college and we appreciate their partnership and generosity so much."
The Ward Virts Concert Series will begin with a performance by Brian Ganz Oct. 9. The centerpiece of the concert series is a world-class Boësendorfer Grand Piano, which was gifted to CSM in 2004 by the Ward Virts Piano Project as a gift to the entire community.
The Connections Literary Series hosts readings at all campuses by acclaimed authors and poets and includes a fall and spring reading by local contributors to the Connections Magazine. The Connections series will begin with a lecture and reading by poet Evie Shockley Sept. 30 at the Prince Frederick Campus.
For information on Connections, Ward Virts performances and more, visit
www.csmd.edu/community/
.
Community Mediation Center at CSM Gets a New Look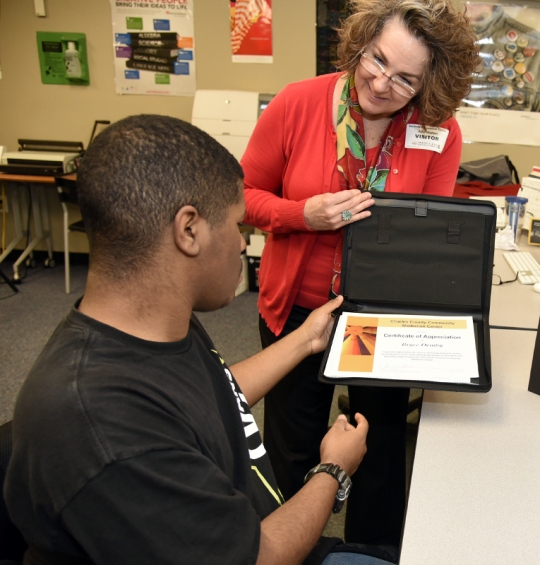 Bryce Demby, Interactive Media Production student at Robert D. Stethem Educational Center, receives a certificate of appreciation from Mediation Center Coordinator Julie Walton for his design of the center's logo.
Charles County's Community Mediation Center at the College of Southern Maryland has a fresh look thanks to a design created by a senior at the Robert D. Stethem Educational Center.
The Charles County Community Mediation Center was created this past fall to provide mediation as a free service to the county while educating people in the community about conflict management and providing direct grassroots education and outreach to individual community members. Mediation Center volunteer Marie Bottoms, a business education teacher who works at Robert D. Stethem Educational Center, suggested involving the Interactive Media Production Class to create a logo for the center.
Mediation Center Coordinator Julie A. Walton worked with Stethem Instructor Kim Clements to give junior and senior students a chance to design logos for consideration.
Of the logos created, the design by senior Bryce Demby was selected and the Charles County Community Mediation Center provided Demby with a certificate of appreciation and a CSM portfolio for his creative design with the new logo.
Demby will be attending CSM in the fall.
The Charles County Community Mediation Center provides mediation, facilitation, outreach and education for citizens of Charles County, and models collaborative problem-solving as the standard to address challenging conversations. The center provides training for volunteer mediators and facilitators, and mediation services are available for free to the citizens of Charles County. For information on the Charles County Community Mediation Center, visit
www.csmd.edu/community/mediation/
or contact Walton at jawalton1@csmd.edu, 301-539-4683.
CSM Names Trice as Cross-country Coach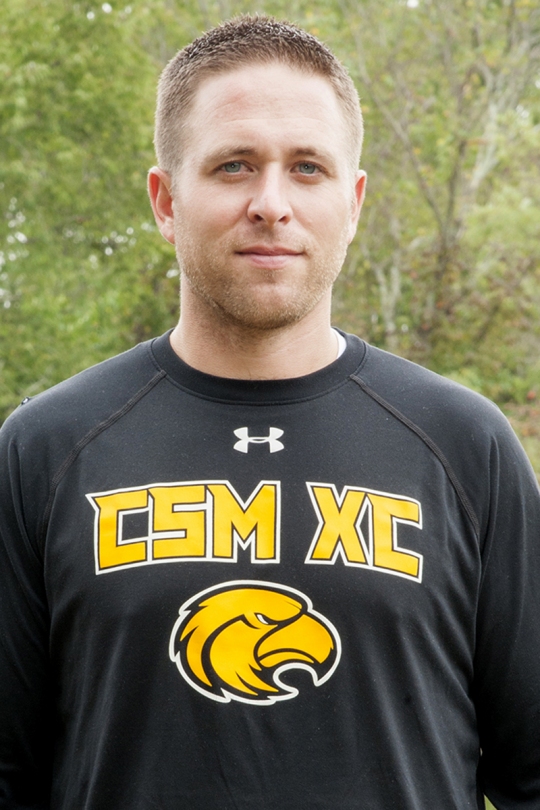 Cross-country Head Coach Josh Trice.
The College of Southern Maryland has named Josh Trice as head coach for the Cross-country team for the 2016 season.
Previously, Trice was assistant coach of the men's cross-country team which finished the 2015 season winning the Division I title for Region XX and sending Patrick Jones of Waldorf, Jacob Mwanthie of Waldorf, Jack Prewitt of Charlotte Hall, River Raines of Indian Head and Alejandro Smith of Prince Frederick to the National Junior College Athletic Association (NJCAA) National Championship in Fort Dodge, Iowa, in November.
Jones earned NJCAA Region XX Athlete of the Year for Atlantic Region and All-MDJUCO First Team; and Mwanthie earned All-MDJUCO First Team.
Trice is a 2000 graduate of McDonough High School and a veteran who served in the U.S. Air Force from 2001-05. Trice has an associate degree in secondary education from CSM, a bachelor's degree in history and a master's degree in teaching from the University of Maryland College Park. He is a social studies teacher at Thomas Stone High School.
Trice has been a runner for more than 20 years and recently completed the 2015 C&O Canal 100-Mile Endurance Race.
Joining Trice will be Rohan Phipps as assistant coach. A resident of Charles County, Phipps was born and attended college in Jamaica where he trained and competed at a high level. He came to the U.S. to continue to train under a world-class coach.
For more on women's cross-country, visit
athletics.csmd.edu/sports/wxc/index
.
CSM Earns Maryland Green Registry Leadership Award
College Recognized for Environmental Stewardship, Sustainable Business Practices
The Maryland Green Registry presented the 2016 Leadership Award to the College of Southern Maryland for outstanding contributions to environmentally responsible and sustainable business practices at the annual membership and awards event on June 14 at the World Trade Center in Baltimore.
"CSM recognizes the efforts of our staff to encourage sustainability and help protect the environment," said CSM President Dr. Brad Gottfried. "We are honored to be recognized for our hard work and leadership."
Over the past few years, the College of Southern Maryland's Environmental Sustainability Committee set annual environmental performance goals and achieved many projects that led to this recognition.
"Our achievements were a collaborative effort by students, faculty, and staff. With student support, the college installed a filtered water filling station on each campus saving more than 10,000 water bottles from going into the landfill as of this June," said ESC Chair Tony Jernigan, vice president of Financial and Administrative Services.
The College has also conserved energy by installing a green roof on the Prince Frederick Campus and LED lights on all campuses. Other initiatives resulted in waste reduction from the increased use of electronic forms and applications, imaging software, and the reduced laboratory waste through the use of microscale experiments as well as reduced the amount of chemical procurement though centralized purchasing procedures.
Speaking at the awards event, Maryland Department of the Environment Secretary Ben Grumbles said, "The organizations we are honoring are true leaders in showing the way toward an environmentally sustainable future and a thriving economy in Maryland. The two go hand-in-hand, shown by the $104 million in annual savings for Green Registry members."
Grumbles also said that through the efforts of the more than 500 Maryland Green Registry members, the state has reduced 539,000 pounds of hazardous waste and 12.1 million pounds of non-hazardous waste from reaching landfills, has recycled 710 million pounds of waste, has composted 9,629,000 pounds of material, has reduced 2.75 million gallons of wastewater, conserved 154 million gallons of water, has saved 474 million kilowatts of electricity and has reduced carbon emissions by the equivalent of 2.76 million metric tons.
The Maryland Green Registry recognizes organizations that have shown a strong commitment to implementing sustainable practices, demonstrating measurable results and continually improving environmental performance.
For more on the CSM Leadership Award, visit
www.mde.state.md.us/marylandgreen/Documents/College-of-Southern-Maryland.pdf
.
For information on the Maryland Green Registry, visit
mde.maryland.gov/MarylandGreen/Pages/Home.aspx
.
For information on CSM's environmental sustainability initiatives, visit
www.csmd.edu/about/environmental-sustainability/.