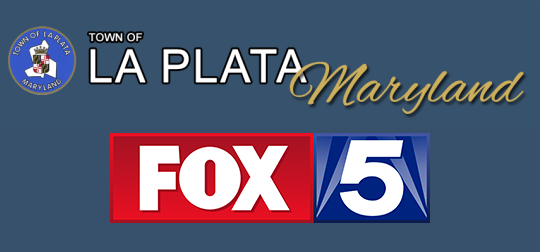 LA PLATA, Md.
(July 28, 2016)—The Board of Commissioners and the Town of La Plata invite local residents, businesses, and organizations to join the live FOX 5 News Zip Trip broadcast at the La Plata Town Hall (305 Queen Anne St, La Plata) on Friday, Aug. 5 between 6 a.m. and 11 a.m. Families, friends, co-workers, and employees have an opportunity to be on television, receive free giveaway items and enter a raffle to win a new Mazda.
No need to RSVP—everyone is welcome to come. Wear matching shirts that advertise your organization, and bring signs to say "good morning" to everyone watching throughout the region. This is a "drop in" event; audience members may come at any time and are not required to stay for a specific duration. Come enjoy the music and festivities.
FOX 5 Zip Trip is part of the weekly Friday series that highlights the best spots to visit around the D.C. region. This event will include on-air personalities and crew who will broadcast live at the La Plata Town Hall and select locations around town.
Parking is available at the back parking lot only of Sacred Heart Church located 201 St Mary's Ave, La Plata. Please leave the front and side lots available for parishioners attending services and activities at the church.