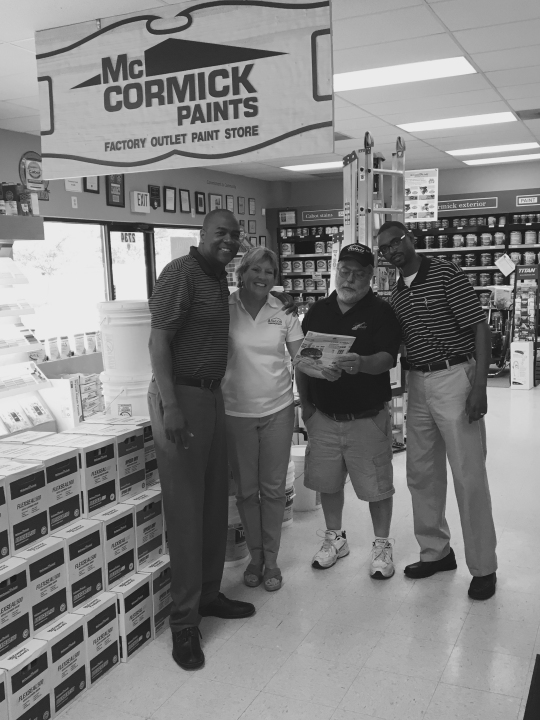 Avalon Building Supply owner Mary Bohanan and McCormick Paint representatives at the McCormick Paint store in Waldorf.
HOLLYWOOD, Md.
(July 22, 2016)—Avalon Building Supply was recently awarded two contracts; one to provide materials to the State of Maryland and the other to provide materials to C. W. Wright Construction Company.
In the first contract, Avalon, along with McCormick Paint Company of Rockville, were awarded the BPO (Blanket Purchase Order) to supply paint and sundries to any Maryland state or county agencies, State Highway Administration, non-profit organizations, public schools, fire and rescue departments and any agency supported by the State of Maryland. These agencies will be able to take advantage of the State's purchasing power to get the lowest possible prices.
It is a one year contract with the option to renew for two more years.
According to Avalon owner Mary Bohanan, she is the only independent retailer who is able to sell under the contract. Qualified agencies also have the option of purchasing from any McMormick Paint retail location throughout the state. The only retail McCormick location in the tri-county area is in Waldorf. The next closest locations are in Capitol Heights and Annapolis, leaving Avalon a significant territory to service.
Bohanan says McCormick reached out to her because Avalon is one of two Md. Office of Minority Business Enterprise (MBE) paint suppliers on the Governor's Office of Minority Affairs (GOMA) listing. "DGS [Md. Dept. of General Services] encouraged me to market myself to all the bidders, but because McCormick reached out to me, I felt a sense of loyalty to them."
Bohanan believes the annual overall value of the contract could be worth up to $864,000 just for paint, not including sundries. The value to her store alone would depend upon the actual sales that come through her door as opposed to a McCormick retail location.
In a second award, the small Hollywood-based company was the successful bidder to provide $108,000 of environmental protection filter sock material to the C. W. Wright Construction Co., based in Virginia, for work being performed on the Eastern Shore.
Avalon is a small business with over 33 years of experience that has been certified in the State of Maryland as a MBE, SBE and DBE. Avalon is also a certified WOSB (Woman Owned Small Business).
"We are specializing in providing reliable, on-time delivery of building materials to businesses and government customers who are looking to partner with small businesses," said Bohanan.
Avalon is located at 43915 Commerce Ave., 1C, Hollywood, MD 20636 and can be reached at 301-373-9500.
Updated 26-JUL-2016 to provide more details about the state BPO.