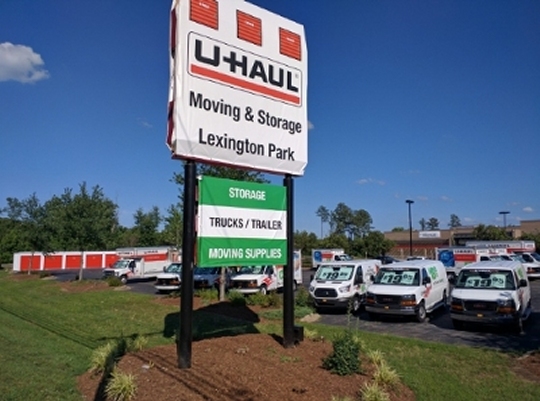 U-Haul signage and rental equipment along the Great Mills Road frontage.
LEXINGTON PARK, Md.
(July 19, 2016)—U-Haul is incorporating its adaptive reuse practices to convert a former McKay's Supermarket into Lexington Park's first full-service U-Haul store for the do-it-yourself mover.
U-Haul Moving & Storage of Lexington Park at 46075 Signature Lane opened a temporary showroom upon acquiring the property on Feb. 1 and currently offers truck and trailer rentals, towing equipment, moving supplies, U-Box portable moving & self-storage containers, 16 outdoor self-storage units and much more.
"U-Haul is certainly striving to be environmentally friendly by refurbishing existing buildings in the hope of being sustainable while keeping local history alive," U-Haul Company of Maryland president Allen Laine said.
The acquisition of the Lexington Park facility was driven by U-Haul Company's Corporate Sustainability initiatives: U-Haul supports infill development to help local communities lower their carbon footprint. Our adaptive reuse of existing buildings reduces the amount of energy and resources required for new-construction materials and helps cities reduce their unwanted inventory of unused buildings.
When renovations are completed, the 11-acre property will offer more than 900 indoor climate-controlled and outdoor non-climate-controlled self-storage units; 60,000 square-feet of RV, boat and vehicle storage; professional hitch installation; and propane.
"This facility is close to the Patuxent River Naval Air Station, and our U-Haul co-founder (L.S. "Sam" Shoen) is a Navy veteran," Laine explained. "We are proud to serve these communities, families and esteemed military members with our extensive dealer network and full-service U-Haul stores like this one."
U-Haul is seeking to hire locally as a five-member staff expects to grow to 15 full- and part-time Team Members as more products and services become available.