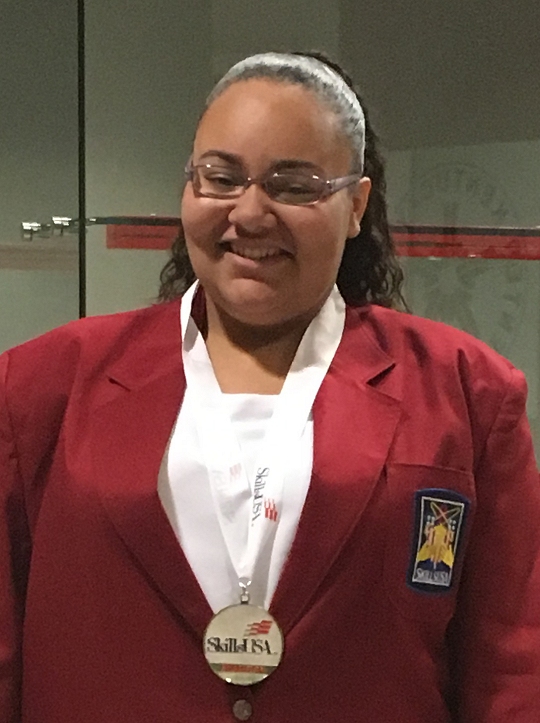 Jewel Washington.
LA PLATA, Md.
(July 13, 2016)—Studying early childhood education was going to be a breeze, Jewel Washington thought. In eighth grade, when she was applied to attend North Point High School, she figured the early childhood education program would be pretty easy. She thought wrong.
"I didn't expect it to be so much work," said Washington, who recently earned a silver medal and placed in the Top 10 at the 51st annual National Leadership and Skills Conference in Louisville, Ky. "I didn't have an understanding or appreciation for teachers that I do now."
Self-described as having an "abnormal level of energy" coupled with a love of young children, Washington blossomed in the program. "It changed me," she said. "I did a lot of maturing."
The early childhood education program really kicks in sophomore year with getting to know the classroom. During a student's junior and senior years, the focus turns to writing lesson plans, Washington said. During junior year, the plans are overseen by instructors, but by 12th grade students are expected to be able to handle a classroom on their own if the lead teacher steps out.
Melissa Palmer, one of two education careers program instructors at North Point along with Nicolette Kirby, said Washington is a natural in the classroom. "Jewel has an intuitive nature to understand children," Palmer said. "Not only where they are developmentally, but their social and emotional strengths. She's in tune with young children."
Leading a classroom, Washington had to decide what type of teacher she wanted to be. Pushover? Task master? "Being a pushover might be fun for the children," she said. "But it's not going to help them in the long run. You have to find the balance and have a well managed classroom in order for everything to run smoothly." Once the students have a level of respect for the teacher, "Then you can show the other sides of yourself," Washington said. "Your emotional side, your fun side."
Washington placing in the Top 10 in early childhood education at the conference wasn't stunning for Palmer. "Her winning didn't come as a surprise," Palmer said. "Jewel is capable of winning. But it is a huge honor. She's outstanding."
Washington will head to the University of Mary Washington in Fredericksburg, Va., this fall where she plans to study early childhood education and psychology. She would like to see a bigger push for a social and emotional tie between teachers and students. "A teacher should foster a lifelong love of learning," she said. "Teaching isn't as simple as it looks. People think it's easy to teach kids how to color inside the lines, but there are so many moments that you have when you teach and when you sit and reflect on it, it goes deeper. Not just for the children, but you as well."
Maryland students brought home 23 medals from the conference that featured 87 career and technical competitions. SkillsUSA Maryland has a membership of 5,000 high school students statewide.
In addition to Washington, North Point students Elizabeth Lopez and Fiona Quenano placed fifth in the American Spirit category which promotes community service, patriotism and citizenship. Alyssa Rabasco of the Robert D. Stethem Educational Center placed eighth in the employment application process.