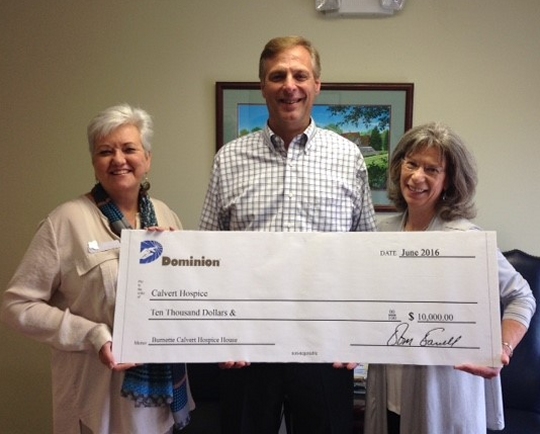 Michael Frederick, Vice President of LNG Operations at Dominion Cove Point, presents the ceremonial donation check to Jean Fleming, EdD, RN, Executive Director and Claire Piason, Director of Development. (Submitted photo)
PRINCE FREDERICK, Md.
(July 11, 2016)—The Dominion Foundation has awarded Calvert Hospice a $10,000 grant for the Burnett Calvert Hospice House. The grant is to help cover the costs for patients who do not have the financial means to pay for room and board. Of the 54 patients that were cared for at the Burnett Calvert Hospice House in 2015, 21 of them (39%) were admitted and stayed on at a reduced rate, some paying just a few dollars per day.
"The grant from The Dominion Foundation will make a significant impact on our ability to hold true to our promise that the hospice facility will remain available to all residents of Calvert County, regardless of their financial situation," said Claire Piason, director of development for Calvert Hospice.
For more information about Calvert Hospice, visit
http://www.calverthospice.org
.