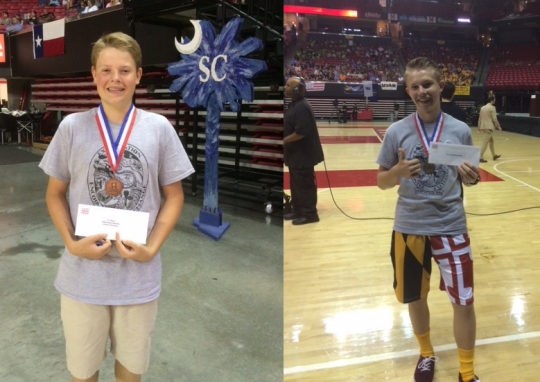 Parker Nickels of Northern Middle School (left) and Brian Holt of Huntingtown High School.
Calvert Students Earn National History Day Recognition
Nearly 3,000 students representing schools from throughout the United States, surrounding territories and countries around the world gathered at the University of Maryland, College Park from June 12-16 to compete in the 2016 Kenneth E. Behring National History Day Competition. Two students from Calvert County Public Schools earned top awards.
Parker Nickels of Northern Middle School was honored with the bronze medal in the Junior Individual Exhibit category for his project "Brainstorm! William James—Pioneer of the Mental Frontier."
Brian Holt of Huntingtown High School was honored with the U.S. Constitution Award, sponsored by the National Archives and Records Administration, for his senior individual website project, "The Iran-Contra Affair: Patriotism or Politics?"
Supervisor of Social Studies Rebecca Bowen said, "Brian and Parker worked exceptionally hard on their projects throughout the entire school year and truly went above and beyond with their research and presentation. To say that that their projects were amazing is an understatement. When I first reviewed their projects, I knew that Calvert County Public Schools was going to be a serious contender at the state and national levels."
According to a press release from Maryland Humanities, the National History Day program allows students to explore an annual theme through research using primary and secondary sources and to create a final product to display their work. The 2016 competition encouraged students to contemplate "Exploration, Encounter, Exchange in History" and select a project in one of the following five categories: exhibit, performance, website, paper or documentary. Maryland students competed in school and county competitions as well as the statewide contest Maryland History Day, which is coordinated by Maryland Humanities, before advancing to the national competition in College Park.
Maryland Humanities is a statewide, educational nonprofit organization that creates and supports educational experiences in the humanities that inspire all Marylanders to embrace lifelong learning, exchange ideas openly and enrich their communities.
2017-2018 School Calendar Posted for Public Comment
The Board of Education of Calvert County Public Schools is currently accepting comments from the public regarding the draft of the calendar for the 2017-2018 school year.
Daniel D. Curry, Superintendent, said, "Instructional time is the priority when we develop the school calendar. We believe it is important to have uninterrupted weeks with the majority of instructional days before the spring testing season."
The calendar will be posted for public comment until July 13, 2016. Comments may be submitted to Karen Maxey at maxeyk@calvertnet.k12.md.us.
The draft of the 2017-2018 calendar is posted on Board Docs at
http://bit.ly/28LtRtD
.
The approved calendar for the 2016-2017 school year is posted at
http://bit.ly/1QIvDb4
.
Calvert Students Awarded Over $20M in Scholarships
Calvert County Public Schools graduates in the Class of 2016 were awarded $22,220,254 in scholarships to continue their education at colleges, universities and other institutes of higher learning.
The scholarships range from awards presented by local organizations to appointments to United States service academies. Of the 1,245 graduates, 335 were offered at least one scholarship.
Dr. Daniel D. Curry, Superintendent, said, "Whether it is $100 or a full ride, our hard-working students will benefit from these awards."
The numerous awards of financial assistance are in part a result of the school system's partnership with Southern Maryland College Access Network (SoMD CAN). SoMD CAN provides support to students during the college admission process and serves as a clearinghouse for local scholarships. The organization's mission is to increase the college-going rate among the region's high school students with specific focus on those students who are first generation college-bound, in underserved populations and academically talented.
Administrative Appointments
The Board of Education of Calvert County Public Schools (CCPS) has appointed Sandy Walker as Supervisor of Equity and School Improvement and Stephen Williams as Principal of Northern High School.
Dr. Daniel D. Curry, Superintendent, said, "We are excited to bring these two fine educators into the CCPS leadership team. Their passion and experience will make an already strong group even stronger, which will help our students reach their goals."
Mr. Walker will serve in the newly created position of Supervisor of Equity and School Improvement after teaching English at Northern High School for fourteen years. The Board created this position to align with Policy #1015 Regarding Equity, with a goal of providing every student with equitable access to high quality and culturally relevant instruction, curriculum and academic support. Mr. Walker earned his Bachelor's and Master's degrees at the State University of New York at Buffalo. Prior to coming to Calvert County, he was an adjunct English teacher at Marist College and taught in Wappingers Central School District in New York. At Northern High, he sponsored the Teacher Academy Program and Minority Scholars Club, chaired the Equity Team and represented Northern on the District Equity Leadership Team. He has also served as an adjunct instructor for Notre Dame of Maryland University.
Mr. Williams comes to Calvert County Public Schools from Chopticon High School in St. Mary's County. He began teaching health there in 2000 and has been an assistant principal since 2008. While an assistant principal, he served on the Southern Maryland Athletic Conference Board of Control and the Superintendent's Safety and Security Committee. He was also a negotiations team member and the secondary school representative on the St. Mary's Association of Supervisors and Administrators Board of Directors. He is a graduate of the State University of New York College at Brockport and earned his Master's degree at McDaniel College. He has also completed the Aspiring Principals Institute conducted by the Maryland State Department of Education.