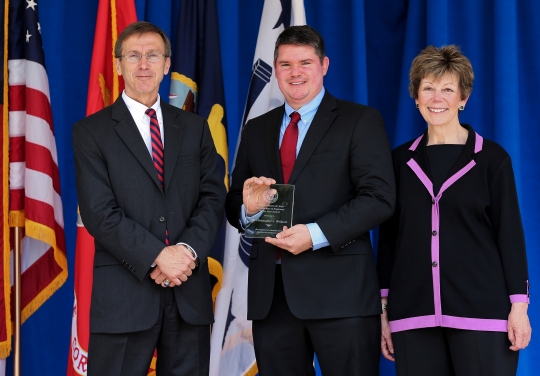 WASHINGTON (June 22, 2016) - Dr. Christopher Weiland, holding the 2015 Dr. Delores M. Etter Top Scientists & Engineers of the Year Award for exceptional scientific and engineering achievement, is flanked by Assistant Secretary of the Navy for Research, Development and Acquisition Sean Stackley and the award's namesake. Etter, a former Assistant Secretary of the Navy for Research, Development and Acquisition joined Stackley to present the award to recipients at a Pentagon ceremony. Weiland - a Naval Surface Warfare Center Dahlgren Division engineer - was one of three recipients in the award's Emergent Investigator Category. He was honored for developing a system that augments naval gunfire capabilities by using unmanned aerial vehicles as additional shipboard sensors. His project eliminates risks in training scenarios and allows U.S. warships to quantitatively train and score gun crews anywhere in the world. (U.S. Navy photo/Released)
WASHINGTON
(June 28, 2016)—The Department of the Navy recognized 17 of its top contributors to basic and applied science and engineering from around the country June 22.
In a Pentagon ceremony, Assistant Secretary of the Navy for Research, Development and Acquisition (ASN RDA) Sean J. Stackley joined the former Assistant Secretary of the Navy for Research, Development and Acquisition Dr. Delores M. Etter in recognizing naval teams, individual scientists and engineers for their achievement, professionalism and technical excellence for the year 2015. The award recipients are part of the 36,000 professionals in the Department of the Navy's science and engineering community.
"They are critical links in the long unbroken chain of technical giants who have dedicated their talents to ensure that our Navy and Marine Corps is the most capable fighting force in the world," said Stackley.
One winner this year is Dr. Christopher J. Weiland from the Naval Surface Warfare Center Dahlgren. Weiland was recognized in the Emergent Investigator category for augmenting naval gunfire capabilities by using Unmanned Aerial Vehicles as additional shipboard sensors. His project eliminates risks in training scenarios and allows U.S. warships to quantitatively train and score gun crews anywhere in the world.
Weiland's award-winning work—the Visual Automated Scoring System (VASS)—is an interface system that permits Unmanned Aerial Vehicles (UAV) to feed information to a combat system. VASS is designed to be plug-and-play, meaning you simply connect a laptop running VASS to the UAV control station and a Sailor or Marine will have instant connectivity to one or more UAVs. The live video feed from a UAV is critical for providing augmented situational awareness, and can extend the range of shipboard sensors to that of the UAV.
Moreover, VASS can track multiple ground and surface targets and quickly calculate gunfire shot correction orders. VASS has applications to shipboard gun qualifications, training, and other missions.
"These are game changing technologies and developments," Stackley added, "which today's award winners have brought forward to ensure that the next generation of Sailors and Marines will have that same technology advantage on the battlefield that today's generation commands."
The annual science and engineering awards program, named for Etter, was established in 2006 to recognize the excellence of the Department of the Navy's highest performing scientists and engineers who have made significant contributions in their fields, to the Department and to Sailors, Marines and the future Fleet. Recipients are nominated by their respective commands and evaluated based upon the technical or scientific merit and the operational impact of the individual or team's accomplishment.
Upon receipt of the award, Dr. Weiland said, "With all of the extraordinary work being done across the Navy, I feel honored to be recognized for this award. I also feel fortunate to work with a leadership team that understands and values the importance of research and development work, and to be surrounded by a team of outstanding scientists and engineers—such as Mr. Kevin Murray, who has made important contributions to advancing VASS.