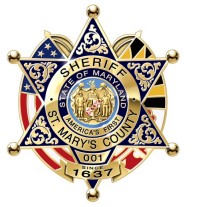 LEONARDTOWN, Md.
(June 21, 2016)—The St. Mary's County Sheriff's Office today released the following incident and arrest reports.
Arrests
6/17/2016 MALICIOUS DESTRUCTION OF PROPERTY: Deputy D. Potter responded to the 21000 block of St. Lo Place in Lexington Park for a reported property destruction. The suspect,
Peyton Imani Cinnamon Scott, age 18, of California
, used a steering wheel locking mechanism to break every window in a victim's motor vehicle in the 21000 block of St. Lo place in Lexington Park. Scott was transported to the St. Mary's County Detention Center where she was charged with Malicious Destruction of Property having a value of $100 or more. CASE# 31497-16
6/17/2016 VIOLATION OF A PROTECTIVE ORDER: Deputy J. Lacey responded to the 45000 block of Indian Way in Lexington Park for the report of a violation of a protective order. The victim called the Emergency Communications Center and reported the suspect,
Troy Dwayne Cutchember, age 24, of California
, was knocking on the victim's door. Cutchember was placed under arrest and charged with Violation of a Protective Order. CASE# 31424-16
6/19/2016 ASSAULT: Corporal D. Reppel responded to the 17000 block of Jutland Drive in St. Inigoes for the report of a domestic assault in progress. The victim alleged the suspect,
Shannon Johanna Dement, age 35, of St. Inigoes
, bit the victim in the ear and hit the victim in the head with car keys. The victim displayed injuries consistent with the allegations. Dement was placed under arrest and transported to the St. Mary's County Detention Center. She was charged with Second Degree Assault. CASE# 31916-16
6/20/2016 SHOPLIFTING: Corporal E. O Connor responded to the Belk's Department Store in California for the report of a theft. The suspect,
Nadine Mare Buck, age 35, of Lexington Park
, attempted to steal merchandise from the store by concealing it in her purse. Buck fled the scene in a motor vehicle before being located by Corporal O' Connor. Nadine was transported to the St. Mary's County Detention Center and charged with Theft Less than $1000. CASE# 32011-16
Sex Offender Registry Arrests
The Criminal Investigations Division, Sex Offender Compliance Unit, on June 17 arrested the following individuals for Failing to Register as Sex Offender as required by the Maryland statue: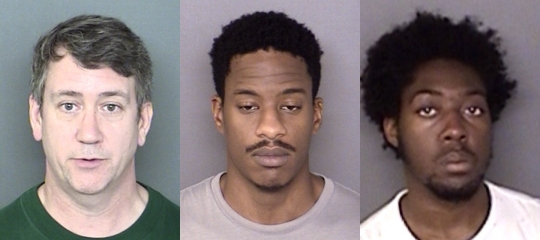 Booking photos. From left to right:
Joshua McCullough Marsh, age 43, of Park Hall
, Failure to Register as Tier II Sex Offender;
Jared Vaughn Hardy, age 24, of Great Mills
, Failure to Register as a Tier II Sex Offender, and Failure to Notify of Employment Change; and
David Lee Anderson, Jr, age 22, of Lexington Park
, Failure to Register as Tier III Sex Offender.
Anyone with information related to sex offenders is asked to contact Detective William Raddatz by email at William.Raddatz@stmarysmd.com or by phone at 301-475-4200, ext. *1948
Sheriff's Office Warns Of A New Drug Trend: Fentanyl
The Vice/Narcotics Division is issuing a warning regarding the powerful opioid pain reliever fentanyl. The Sheriff's Office reports a rise in fentanyl-related overdoses and the sale of fentanyl on the streets.
"Fentanyl has been a problem for other jurisdictions nationwide and unfortunately, it has presented itself locally in St. Mary's County. Although there has only been a few cases reported, the Sheriff's Office remains proactive by identifying developing trends in our community, in addition to keeping our citizens aware and up-to-date with the most current information," said Captain Daniel Alioto, Vice/Narcotics Commander.
Fentanyl can be used safely if prescribed, but is a killer on the streets. Fentanyl is a schedule II narcotic and is often seen in patch form when prescribed to the terminally ill, such as Hospice care patients. It's an analgesic and an anesthetic, 50 to 100 times stronger than morphine, and 30 to 50 times stronger than heroin, and the most powerful opiate available. Fentanyl is transdermal; it can be easily absorbed through the skin.
This powerful drug is often paired with heroin or benzodiazepines to quicken the onset and enhance the high. Often, a minuscule amount of Fentanyl, in a powder form, is all it takes for an overdose to occur.
Many abusers believe they are purchasing heroin or don't know the heroin or drug they are consuming has been laced with fentanyl. Many forms of Fentanyl are being imported from Mexico and China as well as being developed from synthetic ingredients and sold illegally.
For educational purposes, the Sheriff's Office encourages the community to watch a video being circulated by the Drug Enforcement Agency, warning of fentanyl poisoning.
http://bit.ly/28Nitf9
Disclaimer: In the U.S.A., all persons accused of a crime by the State are presumed to be innocent until proven guilty in a court of law. See: http://so.md/presumed-innocence. Additionally, all of the information provided above is solely from the perspective of the respective law enforcement agency and does not provide any direct input from the accused or persons otherwise mentioned. You can find additional information about the case by searching the Maryland Judiciary Case Search Database using the accused's name and date of birth. The database is online at http://so.md/mdcasesearch . Persons named who have been found innocent or not guilty of all charges in the respective case, and/or have had the case ordered expunged by the court can have their name, age, and city redacted by following the process defined at http://so.md/expungeme.