LA PLATA, Md.
(June 13, 2016)—The Charles County Sheriff's Office released the following incident and arrest reports.
FLEEING AND ELUDING: On June 9 at approximately 9:18 p.m., an officer was on routine patrol when he spotted two motorcycles travelling at a high rate of speed in the area of northbound Crain Highway and Fairgrounds Road in La Plata. After a brief pursuit, one of the motorcycles stalled as it attempted to make a U-turn while heading north on St. Mary's Avenue. PFC Halt apprehended the suspect, and an investigation revealed that the tags on the motorcycle had been reported stolen in Fairfax, Va. The VIN and other identifying stickers had been removed. The suspect, Shawn Louis Dyson, Jr., 31, of Waldorf, was also found to be wanted by the CCSO for violation of probation. Dyson was arrested and charged accordingly. The investigation into the identity of the second motorcycle driver is ongoing.
STOLEN/RECOVERED VEHICLE: On June 8, officers responded to a car dealership located in the 2200 block of Crain Highway in Waldorf for the report of a stolen vehicle. Upon arrival, officers interviewed employees who stated that when they conducted an inventory of the lot, a 2016 Cadillac Escalade ESV was discovered to be missing. OnStar was contacted, and information revealed the vehicle was possibly in New Jersey. Local police were contacted and were able to locate a matching vehicle with a differing identification plate. On June 9, CCSO Auto Theft Detectives travelled to Bridgewater, NJ, to inspect the vehicle, and there they identified it as the stolen vehicle. Evidence was recovered linking the theft to a suspect. PFC E. Weaver is investigating.
THEFT FROM MOTOR VEHICLE: Sometime between the hours of 9:20 p.m. on June 6 and 8:30 a.m. on June 7, unknown suspect(s) stole items, including a wallet and credit cards, from a vehicle parked in the 1500 block of Bryant Court in Waldorf. PFC S. Hooper is investigating.
DESTRUCTION OF PROPERTY LESS THAN $1000: Sometime between the hours of 12 a.m. and 9 a.m. on June 13, unknown suspect(s) smashed the rear window and rear tail light and dented the rear door frame of a vehicle parked in front of a residence in the 100 block of Circle Avenue in Indian Head. PFC J. Harley is investigating.
MALICIOUS DESTRUCTION OF PROPERTY: Sometime between the hours of 9:15 p.m. on June 11 and 12:30 p.m. on June 12, unknown suspect(s) punctured several tires on two vehicles parked in the 11400 block of Indian Hills Place in Waldorf. Cpl. J. Walter is investigating.
SECOND DEGREE BURGLARY: On June 10, officers responded to a farm located in the 11000 block of Charles Street in La Plata for the report of a burglary. An investigation revealed that unknown suspect(s) entered the property and stole two benches from a porch barn. PFC J. Campbell is investigating.
CCSO K9 Unit Receives over $20,000 Donation from Greater Waldorf Jaycees and Community Partners for K9 Protective Vests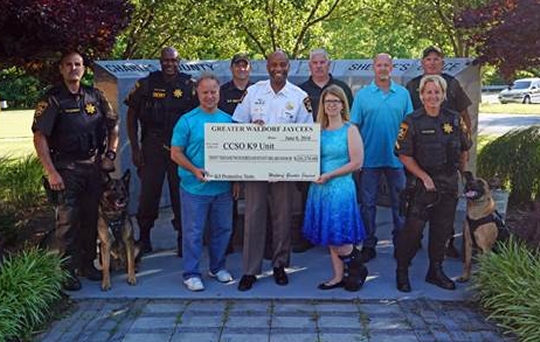 From left to right: PFC Claude Clevenger and K9 Eno, PFC Byron Clark, Mr. Kevin Wedding, SGT Haven Smith, Sheriff Troy Berry, K9 Trainer Billy Cotton, Ms. Leesa Langley, Mr. Vince Houchin, CPL Sean Brown, and CPL Renee Cuyler and K9 Cooper.
The Greater Waldorf Jaycees is well known throughout Charles County as an outstanding community service organization, and recently the CCSO K9 Unit benefited from their kindness and generosity.
On Friday, May 20, the Jaycees held a "Designer Purse Bingo" event to raise money to purchase K9 protective vests. The community responded with overwhelming support. In the largest turnout for a bingo event that the Jaycees has ever seen, hundreds gathered as $20,270 was raised for the cause. Members of the CCSO Command Staff, including Sheriff Troy Berry and Major Chris Becker, and K9 officers were present and even helped to "model" the prize purses and bags for the participants as they played.
The idea for the event came from the Greater Waldorf Jaycees President, Mr. Vince Houchin, and Ms. Leesa Langley's coordination and planning made it a success.
"Vince presented me with the idea in February. I work in law enforcement, and in my position I work with K9 officers and their K9 partners all over the US. When Vince pitched the idea, it was a no-brainer for me," said Ms. Langley, Project Chairperson. "Our goal was to raise the funds needed to purchase the 11 vests needed for the dogs currently employed by CCSO. With our many sponsors and the support of our community, we far exceeded that goal. Not only can we purchase all 11 vests, but we will now be able to assist with purchasing new training equipment which will allow them to continue to be the exemplary unit that our community appreciates and depends on."
The Jaycees presented a check to the CCSO K9 Unit on Wednesday, June 8. Charles County Sheriff Troy Berry and the officers from within the K9 Unit were overwhelmed by the generosity of the Greater Waldorf Jaycees, business sponsors, and community members who supported this effort.
"Our dedicated K9 partners are an essential part of the CCSO's mission to protect and serve in our community," said Sheriff Berry. "We are extremely humbled and grateful for the support shown for the work of our K9 Unit."
Sponsors for the event included: Old Line Bank, GT Aviation, Charles Co FOP Lodge 24, Law Office of Hammad S. Matin, P.A., Andrews Federal Credit Union, Weldon Management Solutions, H&L Burgess, Inc., Gillian's Pier, Waldorf Volkswagen, Captain Pete Charters, La Tolteca, Mudd, Mudd & Fitzgerald, Maureen Galgan, P.A., Texas Ribs, Gary Simpson at Olde Towne Insurance, MD Martial Arts, Apehangers Bar and Grill, Pawfessional Pet Care, Bone-A-Fied Friends Forever, SOMD Memorial Amvets, Community Bank of the Chesapeake, Ledo's Pizza, Perfectly Posh, Newburg Service Center, Elaine Morgan—Realtor with Century 21, Animal Control Board, On Duty Supply, Charles County Auto Body, Off the Hook Entertainment, and Jimmy's Towing and Auto Service.
The next Designer Bag Bingo event is scheduled to take place on June 24 and will benefit The Catherine Foundation. For more information or to purchase tickets, contact jayceepursebingo@yahoo.com.