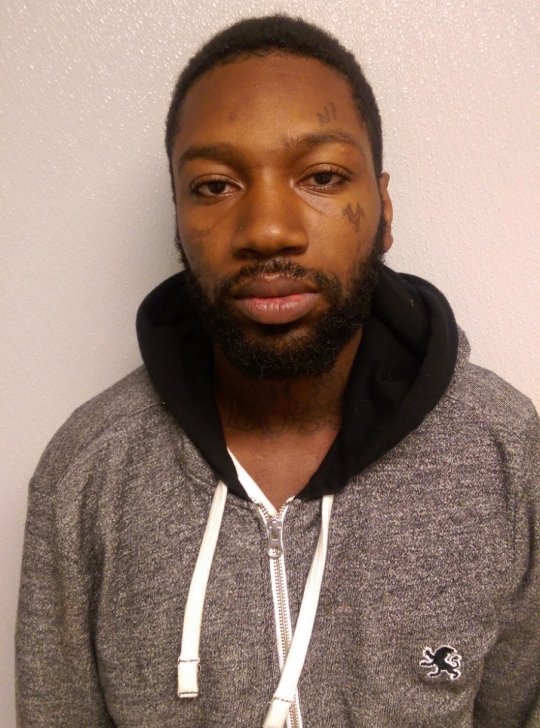 21-year-old Jamual Toye of Silver Hill Court in Forestville. (Arrest photo via PGPD)
UPPER MARLBORO, Md.
(June 8, 2016)—A school resource officer is credited with spotting the suspect wanted for a recent homicide in Temple Hills. The suspect, 21-year-old Jamual Toye of Silver Hill Court in Forestville, was walking toward a shopping center around 8:00 am Tuesday in the 7000 block of Allentown Road. The Prince George's Co. Police Dept. Homicide Unit had a warrant for Toye for the fatal shooting of 24-year-old Timothy Turner on Allentown Road on May 16th.
The school resource officer, Corporal Myron Young, was in his cruiser when he first saw Toye. He immediately called for backup officers while keeping an eye on the suspect. Moments later, Toye boarded a Metrobus. Corporal Young and additional officers followed the bus for about a mile before pulling it over. Corporal Young and a second officer boarded the bus. Toye threw a drink at Corporal Young and managed to jump off the bus. Toye ran a short distance and tossed a gun before being taken into custody by another officer in the 3400 block of Brinkley Road.
Toye is charged with first and second degree murder. Preliminarily, the motive for the fatal shooting appears to be a drug-related robbery. He's in custody of the Department of Corrections on a no-bond status.
Anyone with information is asked to call the Homicide Unit at 301-772-4925. Callers wishing to remain anonymous may call Crime Solvers at 1-866-411-TIPS (8477), text "PGPD plus your message" to CRIMES (274637) on your cell phone or go to www.pgcrimesolvers.com and submit a tip online.