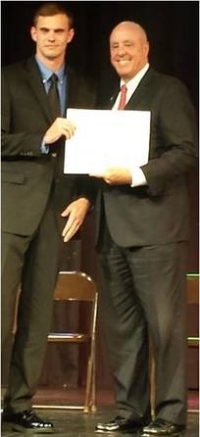 State Fire Marshal Brian S. Geraci presents a diploma to DSFM John Grothe.
LA PLATA, Md.
(June 7, 2016)—In a graduation ceremony held at the La Plata High School on Friday, June 3rd at 6 p.m., two new deputies began their careers as Deputy State Fire Marshals. One of the men, John Grothe, has been assigned to the Southern Regional Office based in Prince Frederick.
Diplomas were presented by State Fire Marshal Brian S. Geraci.
The Office of the State Fire Marshal is an agency of the Department of State Police dedicated to helping protect citizens from fire and explosion through a comprehensive program of education, inspection, investigation and fire protection engineering.