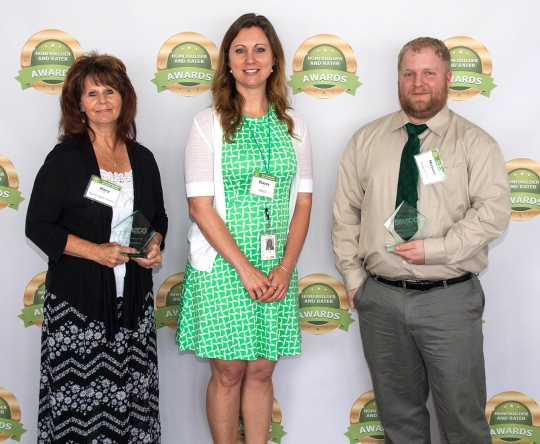 SMECO recognized local builders who went above and beyond in 2015 in bringing ENERGY STAR certified homes to the Co-op's service area. From left are Mary Hare of Quality Built Homes, honored as New Homes Program Partner of the Year; Stacey Hill, SMECO energy analyst; and Michael Sumpter, honored as New Homes Energy Efficiency Champion. Mid-Atlantic Builders, not pictured, received an award for Most Energy Efficient Home. (Photo: SMECO)
HUGHESVILLE, Md.
(June 7, 2016)—Southern Maryland Electric Cooperative (SMECO) recognized local companies at a ceremony held recently. The awards event highlighted the achievements of participating builders and individuals for their outstanding accomplishments in bringing ENERGY STAR certified homes to Southern Maryland last year.
SMECO recognized Quality Built Homes (QBH) as the New Homes Program Partner of the Year. According to Fred Sackett, SMECO's Energy and Technical Programs Manager, "QBH has constructed 1,000 ENERGY STAR homes since SMECO launched the program, including more than 200 homes that were started in 2015. QBH has been committed to energy efficiency in new home construction for many years. They build homes throughout the Southern Maryland region and are a valued partner in the SMECO ENERGY STAR for New Homes Program."
Mid-Atlantic Builders received the SMECO award for Most Energy Efficient Home in 2015. The home, which was built in Brandywine, will save 7.4 megawatt-hours (MWh) per year compared to a home built to standard construction building codes, according to a certified ENERGY STAR rater. Those energy savings translate to about $1,000 in annual cost savings.
The award for New Homes Energy Efficiency Champion was presented to Michael Sumpter, a Residential Energy Services Network (RESNET) accredited Home Energy Rating System (HERS) Rater. He has been active in SMECO energy efficiency programs since 2011. Sackett said, "Mr. Sumpter was pivotal in guiding some of the largest builders in SMECO's service area through ENERGY STAR program changes, and he has now joined Pando Alliance to help the affordable housing community through energy-efficient construction."
"A new home is a significant long-term investment, and our customer-members want comfort and value that last," Sackett said. He added, "In today's economy, energy efficiency is important to homebuyers. Using less energy means saving money every month. And ENERGY STAR certified new homes do just that."
ENERGY STAR certified homes can have all the features buyers want in their dream home, plus energy-efficient upgrades that deliver better performance and year-round energy savings. By offering financial incentives, training, and marketing and technical support, the SMECO ENERGY STAR for New Homes Program encourages builders to construct high-performance homes that are at least 15 percent more energy efficient than those built to Maryland code.
In 2015, the SMECO New Homes Program generated 649 projects, saved 1,424 MWh in electricity, and provided more than $900,000 in incentives to participating builders. As of April 2016, the program had built more than 3,000 ENERGY STAR new homes. SMECO recently received both the ENERGY STAR Market Leadership award and the Partner of the Year award from the Environmental Protection Agency.